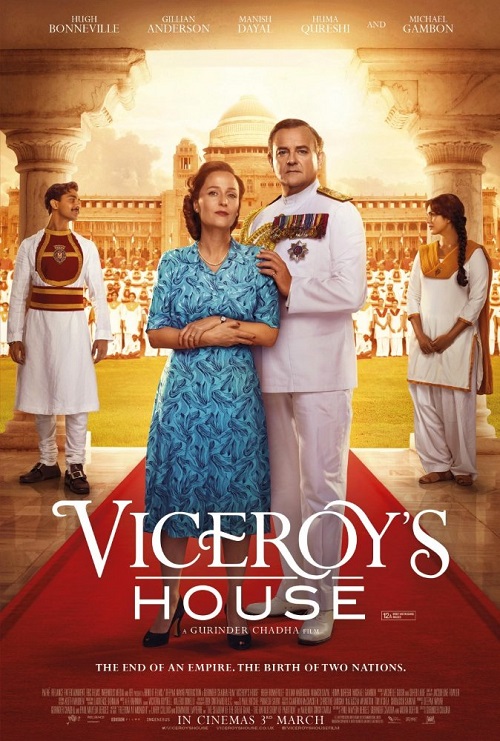 Directed by Gurinder Chadha (Bend It Like Beckham; Bride & Prejudice; Angus, Thongs and Perfect Snogging) and starring Hugh Bonneville (Downton Abbey (tv series); Notting Hill; Paddington; The Monuments Men), Gillian Anderson (The X Files (tv series); Bleak House; The Last King of Scotland; Shadow Dancer), Michael Gambon (Hail, Caesar!; Harry Potter and the Deathly Hallows; Quartet; The King's Speech; The Book of Eli) and Lily Travers (Kingsman: The Secret Service; Me Before you).
Period drama; 106 mins; 6+
Set in spring 1947, this historical drama sees the arrival of Lord Louis Mountbatten (Hugh Bonneville) and his wife Lady Edwina Mountbatten (Gillian Anderson), together with their youngest daughter, 18 year-old Lady Pamela Hicks (Lily Travers), arrive in New Delhi as the last Viceroy, tasked with overseeing the transition of British India to independence.
On the one hand, the drama deals with political intrigue and shenanigans, with General Lionel Hastings Ismay (Michael Gambon) to the fore; on the other, it focuses on the leves of two servants, one Hindu and the other Muslim, in the household of no less than 300 - plus another 200 who worked in the grounds, etc. This balance serves audiences of all ages in this, mainly melodramatic historical reconstruction, which showcases the Mountbattens in a very favourable light, with the backdrop being the coming of independence and what became known as the Mountbatten Plan - historians will be interested in various aspects of what transpired and the political manouverings that went on behind the scenes.
Also, and à la Downton Abbey and other period dramas, creentime was given to a sub-plot involving the relationship between a young Moslem girl (Aalia) and a young Hindu man (Jeet) who meet at the Viceroy's house after having previously known each other when her father was imprisoned and he helped her father by reading to him, etc.
With scenes ranging from the kitchens to the dining and other reception rooms for guests including the likes of Mahatma Gandhi, the film tries to cover the story from many different angles, and succeeds in getting across a message of something needs to be done, and very quickly, but how will it be accepted by everyone across India when there are so many divisions and differences? Mountbatten's famous diplomacy skills are needed, but will it be enough?
As well as an interesting historical setting, the cinematography - both scenery and lavish interiors - and wardrobe/costumes are both stunning, with an interesting dialogue showing, in particular, the personable sides of the Mountbattens in what is quite a lavish production.
PS don't miss the closing credits!