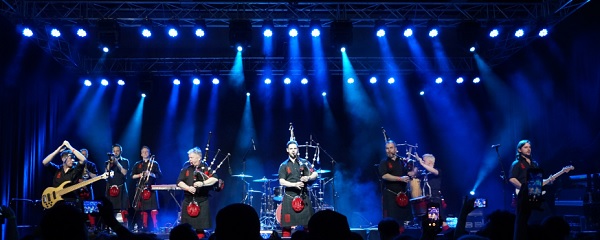 The 20th edition of Dudelange's annual Zeltik festival took place yesterday evening in the run-up to St Patrick's Day celebrations.
The 20th year of the Zeltik Celtic music festival, held once again at the LNBD (Lycée Nic-Biever Dudelange) Hall Sportif, featured an impressive line-up of acts coming from Ireland, Scotland, France, Germany and Canada.
The Luxembourg Pipe Band, the first of its kind in the Grand Duchy, got the festival started with its traditional bagpipe music and Highland tunes- and then returned to the centre stage later in the evening.
The debut act was followed by performances from Trad Irish band CUIG, who have been turning heads with their original sound and impressive live shows across Europe, and Berliner Irish folk band the Cobblestones, who put their own spin on traditional songs from the Emerald Isle.
The audience was also treated to Canadian Celtic band The Paperboys' music with its Celtic, bluegrass and even Mexican influences, as well as the Breton group The Celtic Social Club, who mix tradition with rock, reggae, dubstep and hip-hop in their Celtic melodies.
Next came the one-of-a-kind the Red Hot Chilli Pipers, who returned once again to the festival as the headlining act. The Scottish BagRock masters put their own spin on several rock classics as well as such as Coldplay's Wonderwall and Snow Patrol's Chasing Cars, with outstanding guitar and bagpipe solos.
The evening ended with an electrifying performance from Celtic punk rock queens, the Toxic Frogs, composed of five talented female musicians.
Photos by Jazmin Campbell