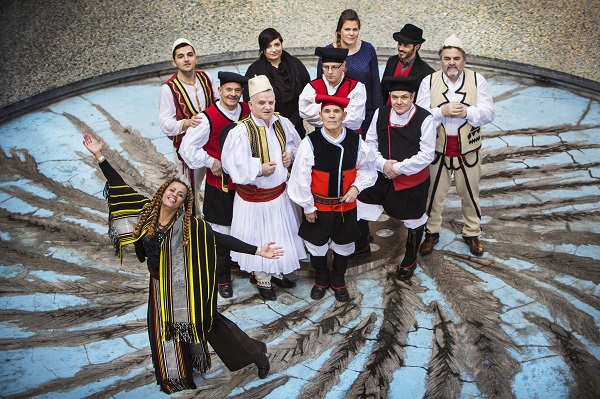 The folk group Voxtra will perform a concert on Saturday 2 December 2017 at 20:00 at the Abbaye de Neumünster in Luxembourg-Grund (Salle Robert Krieps, 28 rue Münster), in collaboration with the Folk-Clupp Lëtzebuerg and financial support of the Ministry of Culture of the Grand Duchy of Luxembourg.
Labelled as the encounter of vocal heritage (Madagascar - Finland - Sardinia - Albania – Belgium), Voxtra is an ambitious project that brings together the most incredible vocal traditions. This amalgamation - not exactly a fusion, since each tradition is still perfectly recognisable - showcases Albanian iso-polyphony with its plangent quality, the cantu a tenore of the Sardinian countryside, Beko blues singing of southern Madagascar, Finnish yoik and rune singing and the Belgian récit chanté.
By working on traditional melodies from their respective cultures, these high level musicians have managed to create a new repertoire where unheard-of sounds develop. From the Albanian drones to the Malagasy vocalises, a sonorous universe is built in our delighted ears!
Voxtra is about the exploration of common ground between different traditions: a particular rhyme, similar harmonies, and a melody that reminisces another one... The Sardinian tenore don't yoddle like a Malgash, but rather they create a vocal tapestry that supports Talike's singing. Anu doesn't sing in Albanian with the Gjini-ensemble but the songs of her youth in Finland resound as an echo of the Albanian polyphony. Voxtra allows the traditions to engage in a dialogue with each other, the similarities come to the surface, but the emphasis lies on the uniqueness of each tradition.
Artists: Raphael De Cock: Belgium; Anu Junnonen : Finland; Talike Gellé : Madagascar; Tenore de Monte Arvu : Sardinia; Domenico Nanu, Ivo Deledda, Tore Deledda, Manuela Deledda, Giovanni Carta, Gjini Family : Albania; Gramoz, Brihans & Ylber Gjini
Tickets cost €25 (reduced tickets €12) from www.neimenster.lu or tel: 262052–444 or email: billetterie@neimenster.lu