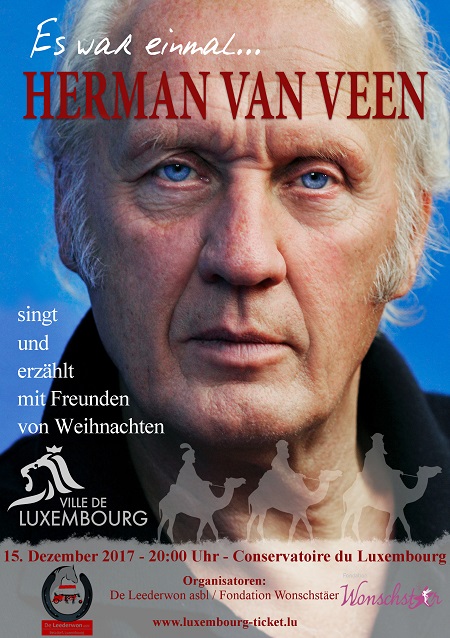 Herman van Veen will perform a concert at the Conservatoire in Luxembourg-Merl on Friday 15 Decemer 2017 at 20:00.
Herman van Veen is known as a composer, painter, author, singer, clown, violinist, melancholic chansonnier and one of the most important German-speaking songwriters and entertainers.
With the solo programme "Harlequin" the then 20-year-old Hermannus Jantinus van Veen made his debut on stage in 1965. He is one of the most famous and popular stage artists in the Netherlands. Herman's best friend Erik van der Wurff was always on stage with him until the end of his life in 2014.
Only by chance, the two found each other. At the end of their studies there should be a graduation party where students should perform something; unfortunately nobody wanted to participate. Then Erik and Herman put together a programme that was like a journey through the five years of study and through classical music. That evening, the two realised that they did not see any way in classical music for further development and discovered they could do something else with what they learned at the conservatoire.
For more than 50 years he has charmed his audience with his unmistakable quiet charm. He writes his lyrics first in his mother tongue. He translates the texts into German, French or English and, depending on the country in which he is located, can use the language of the host country for his show. Here in Luxembourg, Herman van Veen has built a large fan base over the years.
In an interview, Herman revealed that he has written more than 3,000 songs. Herman writes many songs he does not sing in the end. He writes a lot for children, for television, he has written many plays in which the songs occur. Sometimes he only writes the lyrics or just the music of a song. He said that in the end it would be fairer to say that he is to blame for over 3,000 songs.
His music fable by the duck "Alfred Jodocus Kwak" has been adapted across Europe as a children's book, stage play and animated series. In 1976, van Veen presented the character in a musical for children. The duck became more and more popular in the Netherlands. From 1989 to 1991 appeared in 52 episodes of the animated series Alfred J. Kwak, through which the little duck became internationally known. The figure Alfred has been the official UNICEF ambassador since 2003 for the rights of the child laid down by the United Nations.
Together with Herman van Veen and his musicians, the charities De Leederwon asl and Fondation Wonschstaer give people with disabilities the chance to be on stage with one of the most active international artists. The proceeds from the event will be used to support the two organisations.
Tickets €59 from www.luxembourg-ticket.lu. Proceeds in aid of De Leederwon asl and Fondation Wonschstaer.