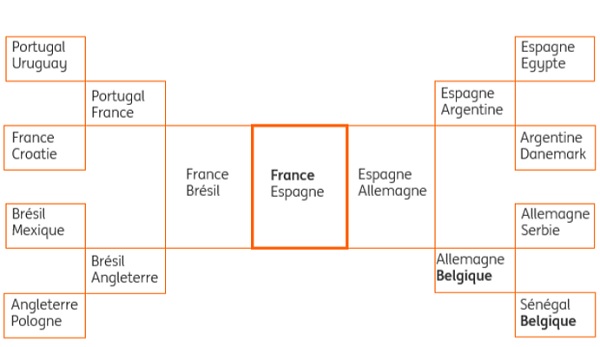 According to an ING Study, the Winner of the 2018 World Cup will be...
A study carried out by ING on the role of money in football (television rights, transfers, betting) confirms that the role is increasingly significant and that it has even become a key factor in winning championships.
By applying this logic, one might even predict the final phase of the 2018 World Cup based on the market value of each team, which is calculated by adding up the market value of all the players on the team.
When this value is calculated by participating country, the French team comes in at the top of the list with a value of €1.08 billion, followed by Spain and Brazil to round out the Top 3. Moreover, with Mbappé and Griezmann, France is part of the very exclusive club of just 5 countries that have 2 players worth at least €100 million.
Country; Total team value (€m); Most expensive player (€m)
1. France; €1.083; Kylian Mbappé (€120m)
2. Spain; €1.035; Sergio Busquets (€80m)
3. Brazil; €950; Neymar (€180m)
4. Germany; €885; Toni Kroos (€80m)
5. England; €874; Harry Kane (€150m)
6. Belgium; €760; Kevin de Bruyne (€150m)
7. Argentina; €708; Lionel Messi (€180m)
8. Portugal; €466; Cristiano Ronaldo (€100m)
9. Uruguay; €368; Luis Suarez (€70m)
10. Croatia; €355; Ivan Rakitić (€50m)
The ING study also confirms the inflation of salaries in the world of football by showing that the total value of the players competing in the 2018 World Cup is €10.4 billion, which is a 54% increase over the total value of the players who participated in the last edition of the tournament in 2014. In fact, the amount is higher than the gross domestic product (GDP) of certain countries...