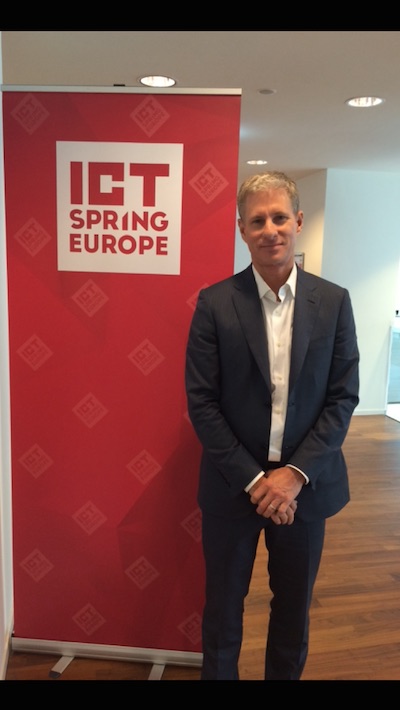 Chief Executive Officer at San Francisco-based software company, Ripple Labs, Chris Larsen expressed his excitement at the progress of creating an 'internet of value', and the suitability of the Luxembourg market and its plethora of financial institutions for Fintech, during ICT Spring Europe 2015, held this past week at the New Conferences Centre in Luxembourg-Kirchberg.
Speaking exclusively to The Luxembourg Chronicle, Mr. Larsen explained the complex nature of Fintech, the conditions required for its viability and the evolution of what he labelled as the 'internet of value', as well as the solutions Ripple Labs hopes to provide for its partners currently and moving forward.
Mr. Larsen elaborated on Ripple Labs' emphasis on Fintech in particular and the specificities focusing on financial institutions.
"We are definitely in the Fintech space, and I would define that as different from the pure technology space, which is mostly about technology. What's interesting about Fintech is it has to marry together three very different domains [technology, capital, and compliance and regulatory]. It's not good enough just to be dominant in one. Frankly that's why if financial institutions get up to speed on the technology changes that are happening, [they] are pretty well-positioned for this notion of the 'internet of value', because they already have the compliance and capital parts well established. That's what Ripple Labs is all about, and we have to be thinking of all three domains all the time, they are all inter-related."
He was also optimistic about Luxembourg's propensity as a Fintech market, citing that it has all the inherent attributes necessary for it.
"What's neat about Luxembourg is it's the best [jurisdiction] at marrying all those [domains] together – they have to be respected by the US, European and Chinese authorities, institutions and regulators. That's pretty special. If you want to be a global, neutral platform or offering, Luxembourg is a great place. We are just incredibly excited of the steps that we've seen [in Luxembourg] so far…and are incredibly impressed and thrilled with what's going on here. We think it's extremely well-suited for [Fintech]."
Luxembourg Prime Minister, Xavier Bettel visited Ripple's premises, when in San Francisco in February, and although Mr. Larsen was non-committal on a potential future establishment of operations in Luxembourg specifically, he was clear in stressing that Ripple Labs aims to be a "global, neutral protocol and standards company" and that because of that ambition, they were looking at additional locations and making headway in that respect, leaving the door open to the possibility of a Luxembourg office in the future.
The company has recently opened an Asia-Pacific office in Sydney, Australia, to add to their HQ in northern California, in order to facilitate a more direct connection between interested partners in the US and European markets, with those in Australia, New Zealand, Japan, China, Southeast Asia and the Middle East. The opening is a response to the growing demand for real-time settlement protocol in the region.
Mr. Larsen, who has over fifteen years' experience and is on his third business project within the Fintech sector, was among the many illustrious speakers at the conference, presenting on "A New Banking Reality: Innovative Real-Time Settlement". He refuted the popular belief that new technology relished disruption, instead pointing out Ripple Labs' solutions to technologically bridging global networks.
"We like to be builders not disrupters…we are entering a new era of value exchange, which is kind of the final step in wiring together the world. Within a country, a currency, you have electronic funds transfer already, which works pretty well. The missing link now is the bridging of these [payment] networks, the inter-operability globally. The world desperately needs that, financial institutions are recognising it and that's why we are aiming at that – it will have the biggest impact [providing the platform in technology for that link]."
He went on to compare the advent of this era of value exchange, with how the internet of information age developed in the past twenty years - to the point today, where information can be moved anywhere instantly and for free. Value exchange, he noted, on the other hand, still faces obstacles insofar as cross-border regulations, high costs, risk etc., however there was a demand for a change to this infrastructure and its core beginning lies with existing financial institutions, who are starting to recognise that, also.
Moreover, the reality of everyone being connected through an information rail, does not yet apply to a value rail. Mr. Larsen believes that Ripple and its distributive ledger technology is the answer to this, with financial institutions being able to replace correspondent banking, for example, impacting everybody, at large.
Much like the internet of information that began with academic institutions (universities), then went through a federation phase (AOL), and finally reached the global markets phase (Google), the 'internet of value' is at the foundational/infrastructure level, which must start and go through financial institutions, before enough data is had to have useful, new ideas.
"Financial institutions are the custodians of value, you need to get a critical mass of value on to these new technologies to really be that rail for everybody. And then what comes next, like with we saw with the internet of information, is an explosion of new things that simply were not possible before. Once the cost of global transfer and time goes to zero, all kinds of new models [emerge]. Devices can be sending value. Your car can have value, broadcasting to the car in front of it to move over."
Lastly, Mr. Larsen also touched on the potential of non-financial use of distributive ledger technology, especially for Intellectual Property (IP) protection and copyrighted remuneration. He mentioned songs and games, as examples, citing the new technology as "an interesting way of potentially paying all the various contributors", since royalty splits can be very complicated. Furthermore, smart contracts could be set up, hand in hand with the technology.
He believes that there are fascinating things that can be done, and that "we've only scratched the surface on" these technologies. That said, Mr. Larsen stressed that solving the payment part – reducing those costs to zero was key.to enhancing all capabilities and that once this was achieved it would open up countless possibilities.
"That's the foundational level. And then there's all this cornucopia of things…what will be next? We don't even know yet."
Ripple Labs has a highly-experienced team, which contributes code to the open-source software and focuses on its work with financial institutions and payment networks to speed up the growth of its self-developed protocol. The team shepherds a movement to evolve finance, so that payment systems are open, secure, constructive and globally inclusive.
Photo by Hugo Fulco