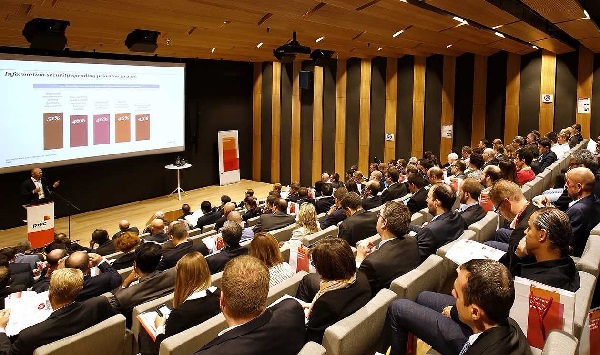 The second PwC Cybersecurity Day will take place on 19 October this year, bringing European and international experts to Luxembourg.
The latest cyber-attacks have shed new light on the main factors that threaten the performance of today's companies. Besides their extensive media coverage, they've rapidly become disruptive events scrutinised by economic decision-makers. The Global FM Index 2017, published in May by one of the world's leading insurance companies, ranks 130 countries and territories for the fourth consecutive year according to the companies' resilience to events likely to disrupt their businesses. Three new confidence factors have emerged in this index, including the identification of potentially vulnerable suppliers or clients in terms of data processing.
For the second time in Luxembourg, the PwC Cybersecurity Day will bring together influential players from the cyber-industry. Business leaders, private and public decision-makers, investors or cybersecurity specialists will endeavour, through leading keynotes, interactive workshops or business meetings, to strengthen the fight against cybercrime and to find efficient solutions to current and future challenges from a national, European and international perspective.
Collaborative platforms, Internet of Things (IoT), robotics or Artificial Intelligence will provide the background of this event and how to address the security challenges arising from this environment. Graham Cluley – Security Analyst, Guy-Philippe Goldstein, Senior Analyst at Wikistrat and TEDx speaker, Philippe Vannier, President of ECSO (European Cyber Security Organisation), Mourad Yesayan, Head of European Operations at Paladin Capital or Yanir Laubshtein, Global Director of Strategy and Transformation at PwC Israel, will share the stage with leading Luxembourg players to tackle cybersecurity issues in an increasingly digitised national economy.
The event will also unveil the findings of PwC annual Global State of Information Security Survey and its practical implications for the European market.