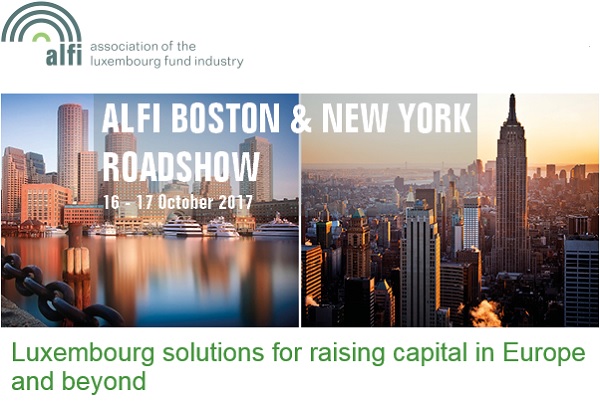 The Association of the Luxembourg Fund Industry (ALFI) has announced that its roadshow will be returning to Boston and New York on 16-17 October 2017, following its North America tour last October taking in Toronto, Boston and New York, as well as revisiting New York in May this year.
16 October: Boston
The event will be held at the Harvard Club Boston (Downtown) and will take the form of an afternoon seminar followed by a cocktail reception. This seminar will feature a roundtable discussion covering current market trends, as well as key new product, distribution and regulatory developments impacting the business of US managers active in Europe.
17 October: New York
The event will be hald at the Harmonie Club and will take the form of an afternoon seminar followed by a cocktail reception. The seminar will open with a keynote address from the Luxembourg Minister of Finance, Pierre Gramegna, followed by two interactive workshops: one on UCITS, one on Alternative Investment Funds. These will feature practical case studies on how to successfully raise capital in Europe and globally.
Both events are free to attend. Participants will learn about the latest developments on topics related to their market and the Luxembourg fund sector, benefit from numerous networking opportunities with top representatives from their local market and Luxembourg, and will have the opportunity to engage with the ALFI community representing the second largest investment fund domicile in the world.
ALFI will be promoting Luxembourg as stable, reliable and ready to support growth. Operating in a low interest rate, volatile market and confronted with political change in the UK and elsewhere, Asset Managers need long term solutions to serve investor needs. The Luxembourg fund industry continues to innovate and evolve in an attractive and reliable legal and regulatory environment. "Come and hear how we can support your growth."
For full programme details, see www.alfi.lu