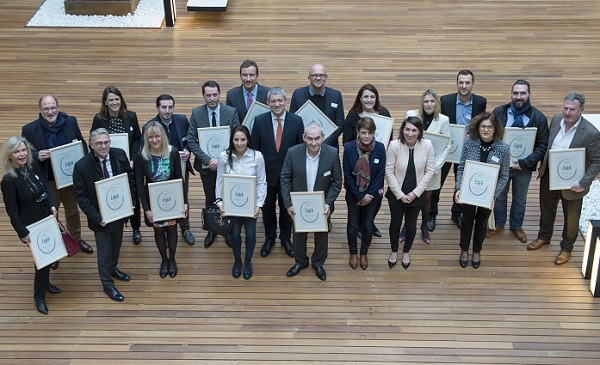 On Wednesday 31 January 2018, Inspiring More sustainability (IMS) Luxembourg held an reception at Raiffeisen Luxembourg at which they welcomed their 18 new members.
After a successful year, IMS started the year by welcoming its new members and presenting the annual programme and companies' priorities with regard to sustainable development.
10 years after its creation, IMS has become a strong network, attracting more and more companies that wish to act and develop CSR actions.
The new members include: Automobile Club du Luxembourg, Alter Domus, Aquabion, CHAMP Cargosystems, Coeba, CMCM, Deveco, Electrolux, Galerie Clairefontaine, L.S.C. Engineering Group, LuxConnect, Luxmobility, Luxnetwork, ONET, Picto Communication, E-Bus Competence Center (Volvo Bus Corporation), Voyages Josy Clément and Willis Towers Watson Luxembourg.
Concrete solutions
A particular strength of IMS is working at the core of companies' concerns and find concrete and innovative solutions, with local stakeholders. IMS members are able to join together up to ten projects, allowing them to implement collaborative actions, to inspire themselves and their peers and to consolidate their CSR strategy.​