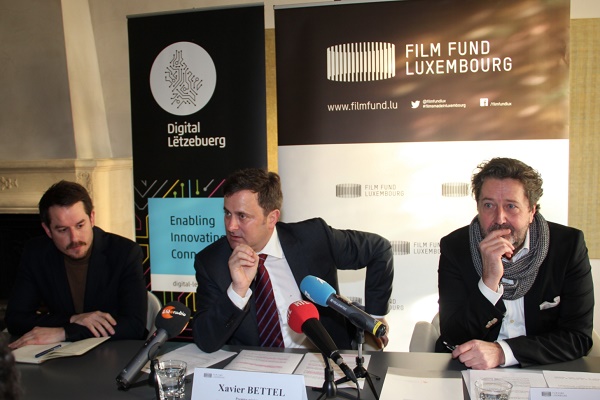 Kevin Muhlen, director of Casino Luxembourg, PM Xavier Bettel and Guy Daleiden present VR initiatives; Credit: Film Fund Lux
Film Fund Luxembourg has developed a series of virtual reality initiatives in partnership with Digital Luxembourg and Casino Luxembourg - Forum d'art contemporain.
After the success of last year's first virtual reality pavilion during the Luxembourg City Film Festival, the Film Fund, Digital Luxembourg and Casino Luxembourg have decided to renew this experience for the 2018 edition of the festival by broadening the spectrum of programming and developing new innovative immersive projects.
For several years, the Film Fund has been supporting projects in new scripts and the production of works in virtual and augmented reality. There will also be the opportunity to discover Luxembourgish Olivier Pesch's project "Finding Jakob" in the VR pavilion 2018.
Moreover, from the launch of the Luxembourg City Film Festival until 4 March, viewing stations will be installed at Casino Luxembourg in a dedicated space where the public will be able to discover the possibilities offered by this new technology thanks to the VR facilities and experiences, available free of charge.
In addition, to increase public awareness throughout 2018, these technological facilities will continue to be accessible at Casino Luxembourg, which will offer continuous programming of films and immersive content focused on artistic creation and innovation.
Finally, the day of 22 February 2018 will be devoted to "VR day" with two round tables for creators and professionals: "A new frontier for cultural creation?" and "The development and distribution of content in immersive virtual reality in 2018 and beyond". These will be supervised by internationally renowned experts who will present the new VR production formats as well as their method of financing and distribution.