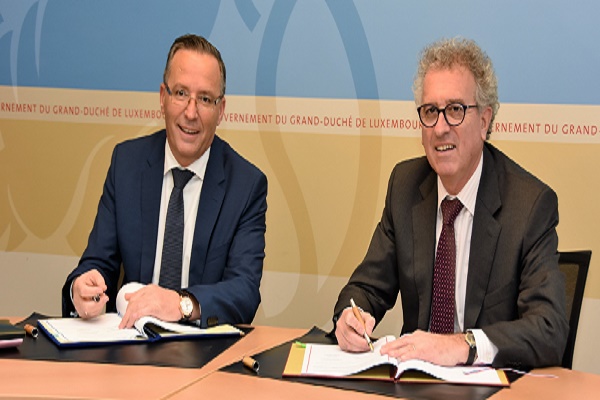 L-R: Bedri Hamza, Kosovo Minister of Finance; Pierre Gramegna, Luxembourg Minister of Finance; Credit: MFIN & MCOOP
On 8 December 2017, Luxembourg Minister of Finance Pierre Gramegna received his Kosovar counterpart Bedri Hamza in Luxembourg.
On this occasion, the Luxembourg and Kosovo finance ministers signed an agreement between the Grand Duchy of Luxembourg and the Republic of Kosovo to eliminate double taxation on income and wealth taxes and to prevent fraud and tax evasion.
The new agreement provides for the exchange of information on request according to the new OECD standards. It also adheres to the standards for tax treaties resulting from the BEPS Action Plan, thus taking into account the commitments made by Luxembourg. Through this agreement, Luxembourg continues to update its network of non-double taxation agreements, in line with the new BEPS rules developed at the OECD level.
In addition, the Minister of Cooperation and Humanitarian Action, Romain Schneider, met Minister Bedri Hamza to take stock of the development cooperation relations between Luxembourg and Kosovo. Indeed, another cooperation agreement was signed on 24 October 2016 in Pristina. The agreement, which covers the period 2017-2020, provides for a focus on four sectors, namely education and vocational training, health, the strengthening of civil society and technical assistance in the context of the European integration of Kosovo as well as funds allocated to active multilateral agencies in the country.