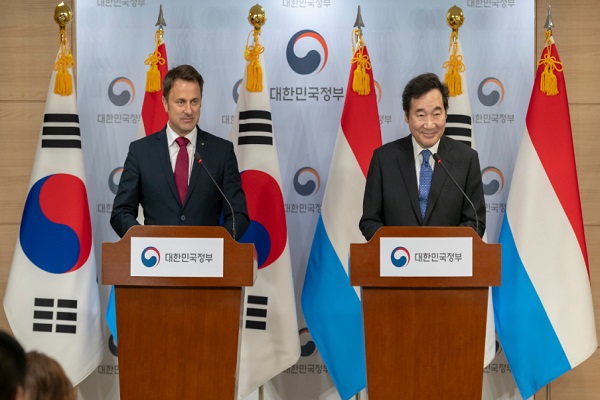 L-R: Xavier Bettel, Prime Minister, Minister of State; Lee Nak-yeon, Prime Minister of the Republic of Korea; Credit: © SIP / Emmanuel Claude, all rights reserved
Today marked the second day of Luxembourg Prime Minister Xavier Bettel's visit to South Korea, during which he met with Prime Minister Lee Nak-yeon.
Discussions between the two provided an opportunity to review bilateral issues as well as major international political issues, including the progress of negotiations with North Korea aimed at strengthening peace and stability on the Korean peninsula.
On this matter, Xavier Bettel commented that: "The Korean peninsula is at a turning point in its recent history. The current rapprochement with North Korea, if it continues, is an extraordinary opportunity to restore peace between the two Koreas for the good of citizens on both sides of the border."
The Luxembourg Prime Minister also discussed the economic relations between the two countries, emphasisising the great potential for development between Korea and Luxembourg. Xavier Bettel and Lee Nak-yeon subsequently agreed to intensify existing exchanges, such as academic relations.
In addition, the delegation visited the Seoul Startup Hub, Korea's largest start-up incubator which contributes to the development of 450 start-ups. Prime Minister Xavier Bettel then had the opportunity to visit the Seoul Fintech Lab, an incubator contributing to the skills development of Korean FinTech companies.
Moreover, beyond the sphere of this visit, two memoranda of understanding (MOU) were signed in the presence of Xavier Bettel: on the one hand, Luxembourg for Finance has signed on behalf of the Luxembourg House of Financial Technology (LHoFT) an MOU with the Seoul Fintech Lab; on the other hand, the Luxembourg Chamber of Commerce and the Korean Chamber of Commerce and Industry have signed an MOU.
Finally, Xavier Bettel met with representatives of Sam Hwa Steel, Hyosung and Doosan, both of which maintain industrial production sites in Luxembourg.