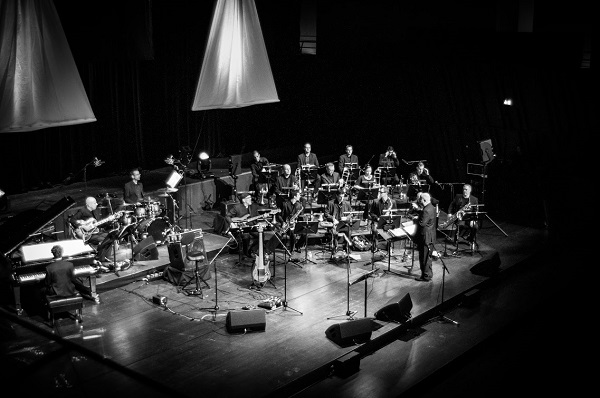 Luxembourg Jazz Orchestra;
On the occasion of the 25th anniversary of the Luxembourg Jazz Orchestra, the CAPE in Ettelbrck has invited the famous Canadian jazz sisters Christine and Ingrid Jensen for a residency with the orchestra.
Over the period of one week, the orchestra will work with the two musicians on compositions of Christine that will lead to a very promising concert on Thursday 26 April 26 2018 at 20:00.
A classic Big Band, made up of the best musicians from the local scene who have been joined by jazz musicians from the Greater Region, and regularly welcoming international guests, the Luxembourg Jazz Orchestra is in a way the extension of "Tribute to Big Band Jazz" put on by Ernie Hammes for the 93th edition of the Spring Musical Festival. He brings together four trumpeters, four trombonists, five saxophonists and a rhythm section, and his repertoire ranges from the timeless works of Count Basie, Dizzy Gillespie and Duke Ellington to more contemporary compositions and original works by members of the orchestra.
In 2018, the Luxembourg Jazz Orchestra will be celebrating its 25th anniversary. It has performed with American saxophonist Bob Mintzer (2003 and 2010), with Belgian trombonist Phil Abraham and Italian trumpet player Andrea Toffanelli (2004), with American trombonist Slide Hampton (2006), with American pianist and crooner Freddy Cole (2008), with American saxophonist Don Braden (2009) with American trumpeter Jon Faddis (2011), with Belgian vocalist David Linx (2011), with Belgian guitarist Philip Catherine (2012) with New York Voices 2013), with Dominican pianist Michel Camilo (2014) and Panamanian drummer Billy Cobham (2017). In 2007, the LJO hosted the official ceremony of presentation of the European Jazz Trophies Eurodjango. In 2008, the LJO participated, at the Philharmonie Luxembourg, in the jazz requiem of the composer Nils Lindberg, together with the Choir Saint Michel. In 2015 and 2016, the LJO participated in the "Queen swings" project of singer Serge Schonkert.
The Luxembourg Jazz Orchestra is conducted by Ernie Hammes, with Christine Jensen on saxophone and Ingrid Jensen on trumpet.
Tickets €26 (U26 €13) from tel: 2681-2681 or email: billetterie@cape.lu