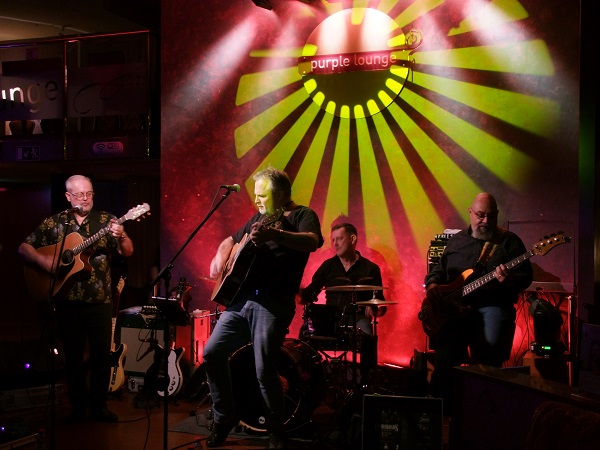 Crossroads, Purple Lounge;
On Thursday 18 January 2018, Crossroads performed at the Purple Lounge at Casino2000 in Mondorf-les-Bains.
The concert was the first of six planned for 2018 as part of their "LIVE & ACOUSTIC" with Irina Holzinger, which was organised to coincide with the release of the DVD/BLU-RAY recording of their 15th Anniversary Concert at the Purple Lounge on 29 September 2016.
The Purple Lounge venue allows for a comfortable and tasty brasserie-like dining experience. After a 90-minute meal, the band was on stage ready for the 21:00 start; by now, the venue was full with diners and concert-goers swelling numbers well past a hundred.
With a bassist, drummer snd two on guitar, all was set for front-man and lead vocalist Jean-Claude Bintz to launch into the first number, before Irina - with her Janis Joplin-like voice - joined the foursome on stage.
The genres Crossroads perform are a mix of blues-rock and easy-listening, both up-tempo snd slow numbers, with their play-list including many of their own songs as well as covers, for example "Give me one Reason" by Tracy Chapman and "You Can't Judge A Book By It's Cover" by Bo Diddley.
The Purple Lounge in 2018 has retained its charm from previous years, with subtle lighting, being able to enjoy one's drinks during performances, and superb acoustics which all combine together for a most enjoyable evening. In fact, with the musicians on stage, one could be excused for confusing it for a southern US blues club - were it not for the song introductions in Luxembourgish...
Crossroads was founded in Luxembourg in 2001 and consists of 4 well-known musicians and friends who mainly had in mind to make some good music together.
- Claude BINTZ, vocals, guitars (Why, Sirius, Blues Busters)
- Raymond LINDEN, guitars, side-guitar (Challengers, B.C. Wayne Band, Midlife Crisis, Chris Birch Band)
- Jacques RUPPERT, Bass (Why, George Norman Band)
- Jacques BOCK, Drums (Big I'Naf, PlusPoint, Radio Daze)
TOUR CONCERT DATES
18 Jan 2018 @ 2100 @ MONDORF, Purple Lounge Casino2000 feat. Irina Holzinger (tickets €9 from www.casino2000.lu)
27 Apr 2018 @ 2000 @ METTLACH (Germany), De Keller (H.Saarpark) feat. Irina Holzinger
17 May 2018 @ Private concert
16 Jun 2018 @ 2000 @ DUDELANGE, Fête de la Musique feat. Irina Holzinger
22 Sep 2018 @ 2000 @ REMICH, Blues op der Musel feat. Irina Holzinger
08 Dec 2018 @ 2130 @ ERNZEN, Little Woostock feat Irina Holzinger
The band plays a blues-oriented program consisting of self-composed songs as well as adaptations of known and rather unknown Blues songs. The experiences of the various musicians totals more than 150 years.
CDs: Let the guitars do the talking (2004); Second Chance (2011); Live at l'Inouï 2011 (2012); Steel Tapes (2014) (compilation)
DVD/ Blu-Ray 15th Anniversary Concert "Live and Acoustic" (2017)