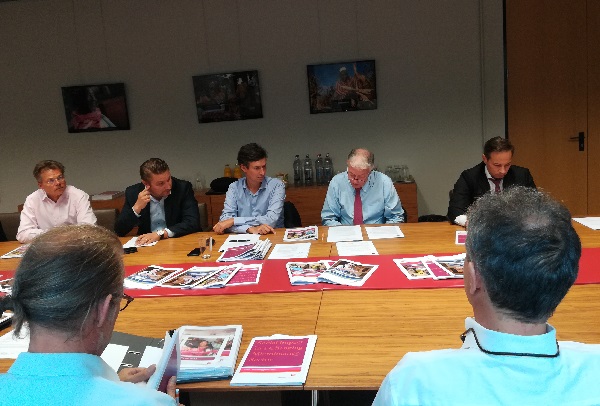 Raymond Schadeck has been designated the new chairman of Investing for Development SICAV (and its two Sub-Funds LMDF and FCCF).
The Shareholders of the Investing for Development SICAV and its two sub-funds, the Luxembourg Microfinance and Development Fund (LMDF) and the Forestry and Climate Change Fund (FCCF) held its General Meeting of Shareholders on Thursday 5 July at the Maison de la Microfinance.
There the shareholders appointed four new directors to the Board, including Raymond Schadeck as designated chairman, replacing Kenneth Hay who held the position for the last five years and did not seek a new mandate. During his (the latter's) time as chairman, the LMDF saw its net assets more than double from €14.4 million to €31.2 million, a significant expansion of Luxembourg-based individuals investing in LMDF (who account for 30% of the total Fund today) and the successful launch of the Forestry and Climate Change Fund (FCCF).
Kenneth Hay stated that "Over the eight years of its existence, the fund has built a convincing track record and the time is now right to introduce a new Chairman who can bring fresh ideas and impetus to the Fund at a stage when it is poised for further development."
Meanwhile, Minister of Finance Pierre Gramegna commented: "The emerging sector of sustainable and green investments needs strong leaders to establish trust and confidence of actors of the financial sectors in these new ideas. I warmly congratulate Ken Hay for his leadership of the Luxembourg Microfinance and Development Fund and the successful launch of the climate impact focused Forestry and Climate Change Fund during the last five years."