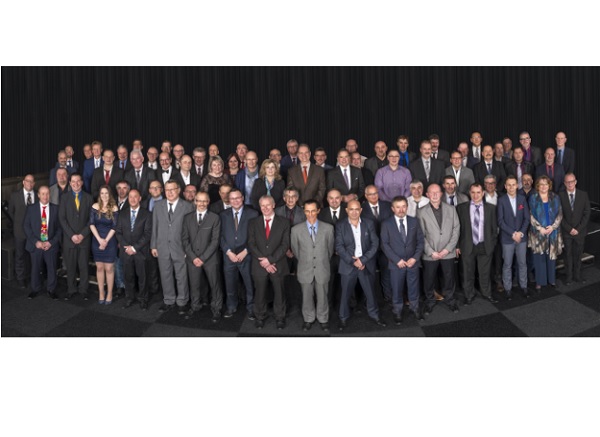 Goodyear recently honoured a total of 96 employees for 25, 30, 35 and 40 years of service with the company in Colmar in Luxembourg; for the event, the recipients were invited with their partners to a festive evening at the 'Al Seeërei' in Diekirch.
Silvia Sitzen, director Human Resources for Goodyear Luxembourg, made a presentation about the relevant events that happened during the respective hiring years and congratulated the jubilees for a total of 2,785 years of loyal services to the company. She added that this "impressive number of years of experience and know-how was assembled by 6 women and 90 men and thus contributed to the company's success."
Mrs. Sitzen then reviewed the 2017 highlights and thanked the associates for their exemplary commitment. This applied among others to the innovative creativity Goodyear could demonstrate during the Geneva Motorshow with its 'Eagle 360 Urban' and 'IntelliGrip Urban' concept tyres. But the Tyre Plant as well had scored in 2017 by always producing the required daily ticket of tyres – despite the high raw material prices. The demand for Earthmover tyres even rose, leading to the development of extension plans for even larger tyres, investments for the future to take place this year. The announcement of the plans to create a new facility in Dudelange, production passenger tyres for the ultra-high-performance segment, is another innovation boost for the future of Goodyear in Luxembourg.
The speech was followed by the official group pictures, with the officials inviting the award recipients to join them on stage for their respective years of service.
During the dinner that followed, all the guests received a small gift as a souvenir of this memorable evening.​