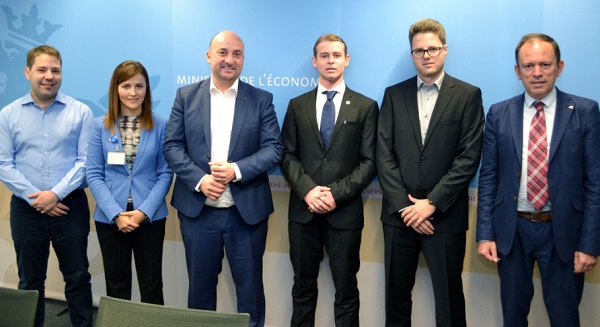 L-R: Ben Gaffinet; Asmira Skrijelj, Ministry of Economy; Étienne Schneider, Deputy PM, Minister of Economy; James Dooley; Denis Loos; Fernando Maura, ESA; Credit: MECO
Three young Luxembourgers have been accepted for a graduate internship at the European Space Agency (ESA) in Noordwijk, the Netherlands.
On 17 November 2017, Luxembourg Deputy Prime Minister and Minister of the Economy, Étienne Schneider, congratulated three young graduates who will benefit from an internship in an operational service of the European Space Agency Space Research and Technology Centre (ESTEC) in the Netherlands. Considered the technical heart of ESA, ESTEC located in Noordwijk is where most ESA projects are born and where they are piloted during the different phases of their development.
A special agreement has been concluded between the Ministry of the Economy and ESA to allow young graduates from Luxembourg to obtain their first professional experience in different specific sectors in the field of space. Through the 2017 session of the Luxembourgish Young Graduate Trainees program (LuxYGT), Ben Gaffinet, Denis Loos and James Dooley will benefit from valuable experience in the space industry. Throughout their internship, the three Luxembourgers will be supported by an experienced tutor, a staff member of the ESA.
With the Ministry of the Economy planning to continue to promote career opportunities in the space sector for young people, the next LuxYGT call for applications will take place in the first half of 2018 and will be published on the website www.gov.lu/luxygt.