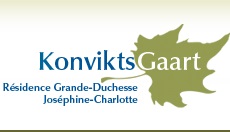 As of today, the Konviktsgaart retirement home in Luxembourg City will undergo renovation work until mid-November 2017.
The Ville de Luxembourg (VdL) has announced that the "short stay" rooms of the Konviktsgaart - Grande-Duchesse Joséphine-Charlotte Residence will be inaccessible from 22 August until mid-November 2017 due to renovations.
The renovations include allowing for easy access bathrooms and the replacement of flooring in the retirement home's living spaces.
Those interested in a short stay at the Konviktsgaart from mid-November 2017 should contact the Konviktsgaart at the following address: Residence Grande-Duchesse Joséphine-Charlotte, 11, avenue Marie-Thérèse, L-2132 Luxembourg, via tel.: 25 06 50-1, via fax: 25 06 50-267, or e-mail: konviktsgaart@vdl.lu