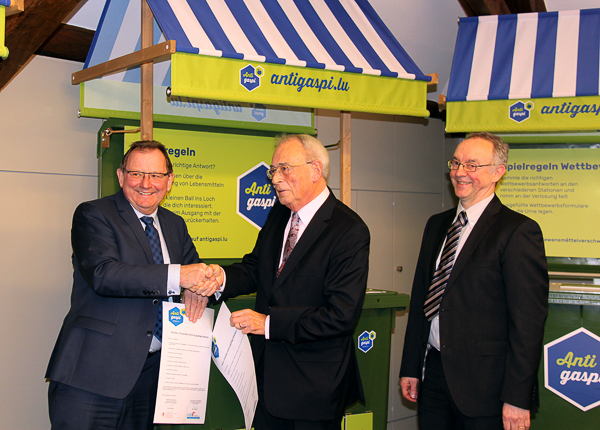 In the face of an ongoing, indeed mounting, problem, the campaign to reduce food waste was given renewed force today after the minister for agriculture, viticulture and consumer protection, Fernand Etgen, signed an anti-food waste charter with representatives of the civil service canteen.
The campaign in Luxembourg started last year to help address one of the biggest challenges facing societies across the developed world. According to the United Nations Food and Agriculture Organisation (FAO), 1.3 billion tons of food produced for human consumption is being wasted, equivalent to one-third of the food produced.
For this reason, the campaign "Together Against Food Waste" launched by the Ministry of Agriculture, Viticulture and Consumer Protection in 2016 will also continue in 2017. The campaign has focused extensively on educating children with a roving, interactive exhibition used to introduce school children to the problem and how to take steps to resolve it in their own homes.
"The biggest wasters are households, that is, we consumers," said Minister Etgen.
The exhibition will also be on show at the Springbreak exhibition at LuxExpo The Box on the "anti-waste day" on 25 March. LuxExpo The Box will devote this day of the exhibition to the fight against wastage throughout the day with conferences and workshops on anti-waste with the support of the Ministry of Agriculture, Viticulture and Consumer Protection.
"By making every little effort, we can all succeed in combating food waste," said Minister Etgen today.
Image: Minister Fernand Etgen, Pierre Trausch, manager of CGFP-Services, Jean-Paul Hoffmann