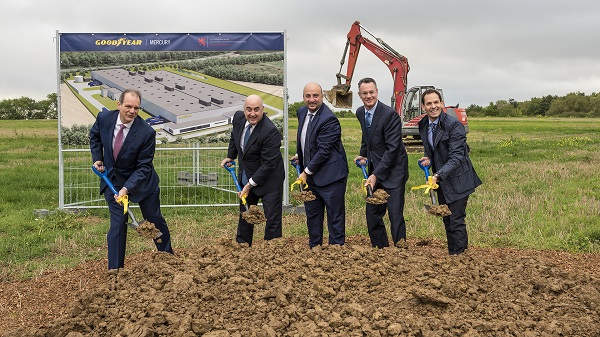 (L-R): Jean-Claude Kihn, Goodyear; Carlos Cipollitti, Goodyear; Étienne Schneider, Deputy Prime Minister and Minister of the Economy; Rich Kramer, CEO & President Goodyear; Dan Biancalana, Mayor of Dudelange; Credit: Goodyear
Present in Luxembourg since 1951, the Goodyear Tire & Rubber Company of the United States, which specialises in the development and production of tyres of all types, will install a new tyre production plant in the Riedchen industrial zone in Dudelange; this project represents an investment of €80 million and will be the source of 70 new jobs with Goodyear.
Advancing its connected-business model, the new facility in Luxembourg will utilise an innovative production process to meet growing customer and consumer demand for premium tyres. Named Mercury, the proprietary process features highly-automated, interconnected workstations, using additive manufacturing technologies to efficiently produce premium tyres in small-batch quantities on-demand for replacement and original equipment customers.
The new facility is set to open in 2019 and will produce approximately 500,000 tyres annually.
On Tuesday 12 September 2017, the first sod was turned on the future site of the plant by Luxembourg's Deputy Prime Minister and Minister of Economy, Étienne Schneider, Rich Kramer, CEO and Chairman of the Goodyear Group, and Dan Biancalana, Mayor of the City of Dudelange.
At the press conference held at the Goodyear premises in Colmar-Berg, Minister Schneider said "This project, based on production technologies in industry 4.0, confirms once again Luxembourg's competitive economic environment and our attractiveness for cutting-edge industrial activities based on digitisation and innovation. Goodyear is an emblematic company of the Luxembourg industry: it is the first large American company to be established in Luxembourg in the 1950s, it has also invested heavily in research and development for 60 years, its most important research centre outside the United States which is located in the Grand Duchy. Now, with the connected plant project, Goodyear is the leading figure in the digitisation of the Luxembourg industry and is assisting us in the implementation of the Rifkin strategy of the third industrial revolution".
Rich Kramer, CEO and Chairman of the Goodyear Group, who was in Luxembourg for the occasion, said "Named Mercury, the project meets the challenges posed by the increasing complexity of the tyre industry. This investment will allow Goodyear to increase the speed and flexibility of production and to meet the growing demand for limited series of high quality tyres. Mercury complements Goodyear's production capacity and will provide us with a real competitive advantage. Luxembourg, where Goodyear has been established since 1951 and where we have had a state-of-the-art research centre for 60 years, is the ideal location for this project."