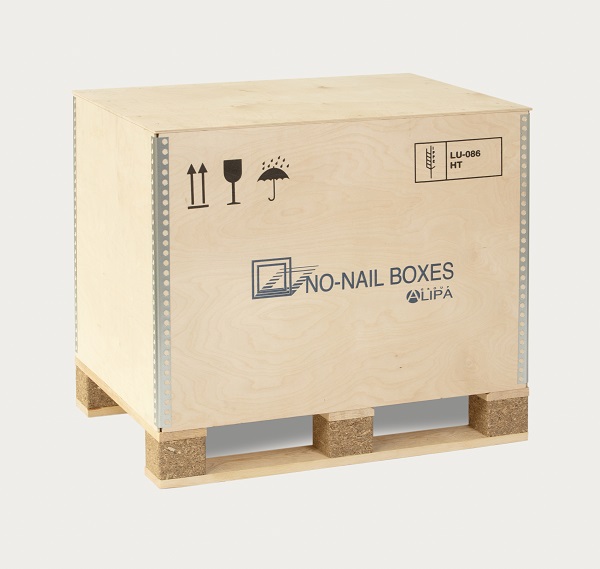 NO-NAIL BOXES, the Luxembourg specialist of collapsible plywood and steel boxes, has announced the launch of the new version of its website www.no-nailboxes.com - this new and fully redesigned version is modern, practical, comprehensive and user-friendly.
It is now one of its essential tools for the marketing and distribution of its collapsible plywood and steel boxes. NO-NAIL BOXES has completely revamped its website based on customers' feedback, starting with its structure.
The boxes are now classified into three categories: reusable boxes, single-use boxes, and boxes approved for the transportation of dangerous products. "Navigation is simplified for our customers and for those who do not yet know our boxes", says Boris REMY, Sales Manager of NO-NAIL BOXES. In addition, a technical data sheet can be downloaded directly for each box.
It is easy now to access all possible customisations for the folding boxes with a single click through the "Personalisation" tab. In it, you will find the handling accessories, printing options, inner packaging, locking systems, safety seals, etc.
Addition of an "Environment and Quality" tab
"With this new tab, we wanted to highlight our policies regarding quality and the sustainable development of our company. These have been our values for a long time. It seemed useful to us to create this tab because more and more companies want to directly obtain a copy of the certifications that we have. Others want to know about our social responsibility policy before getting in touch with us. We haven't really changed. Rather, it was the demand of our customers and suppliers who pushed us to emphasize these values", explained Michèle Detaille, Managing Director of the ALIPA Group.
Aimed at packaging professionals and the chemical, metalworking, defence and security industries, among others, this new website adopts a decisively lighter and more modern look while remaining extremely comprehensive.
"Our website had not been revised for some time apart from a simple responsive adaptation in 2015. Over the years it had become a real mess, with a layout that was sometimes hard to follow", said Pauline PIRON, Marketing Coordinator.
The site is available in French, English, German, and Dutch - see www.no-nailboxes.com
NO-NAIL BOXES (ALIPA Group) manufactures collapsible plywood and steel boxes that are used for packaging, transport and storage. More than 90% of its boxes are made to measure. Light, reusable, delivered on pallets and stored flat – they are suitable for any type of transport: Air-Land-Sea. They comply with the NIMP15 standard, and some are approved for the transport of dangerous products.
The company belongs to the ALIPA Group, composed of 6 companies: NO-NAIL BOXES, CODIPRO (design and manufacture of articulated lifting rings), AllPack Services and WaluPack Services (packaging and shipping), LIFTEUROP and STAS (manufacture of lifting accessories and equipment).