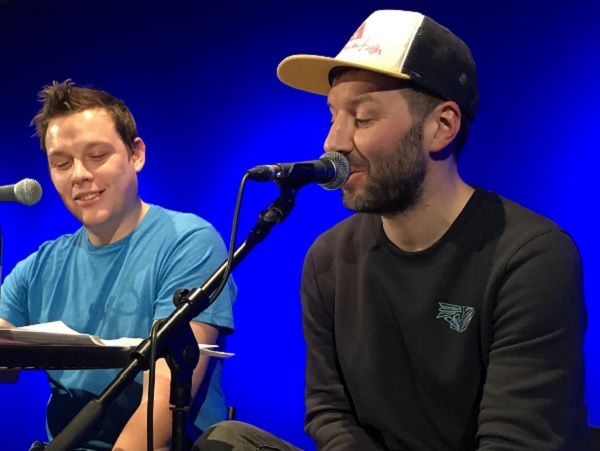 (L-R): Sam & Ben of Ara City Radio;
Always looking for new ways to entertain, the ARA City Radio Team has this time come up with a comic radio drama; Luxembourg 102.9, a tale of ordinary media folk struggling to get by in the world's wealthiest city.
This five-part series is being aired every Monday on the Freshly Squeezed Breakfast Show between 08:00 and 08:30.
The final episode will be revealed at a Live Read-Through of the entire script, back where it all began, upstairs at Urban Bar (2 Rue de la boucherie, L-1247 Luxembourg) on Thursday 7 December at 19:00. Listeners aare urged to support the team as they struggle to keep their faces straight at this epic event. To calm everyone's nerves, and take the edge of the excitement, FREE beer will be served.
Breakfast host Sam Steen said "I am constantly amazed at the stuff we come up with, it's never one person, somehow it is always a joint effort of stupidity that gets us going. We like doing these live events because it is a fun and relaxed way for us to get to know our listeners; equally it is a great way for people to put faces to the voices they listen to every day".
A quick recap just in case you missed the first episodes: Sam has started the most fiendishly impossible i-Spy after spotting a man in leather trousers at the bus-stop. Ben fails to show up for his show. Germain panics and calls the police, who take Lisa, Natasha and Marina into custody, citing a possible dispute over organic food and holiday scheduling.
Alternatively, listen to the series online at https://soundcloud.com/aracityradio/sets/luxembourg-102-9-radio-drama
CAST
Sam Steen as Sam Steen
Mark Weedon as Mark Weedon
Lisa McLean as Lisa McLean
Ben Andrews as Ben Andrews
Natasha Liati-Jones as Natasha Liati Jones
Germain as Germain
Céline Agnés as Céline
Danica Leib as an Aussie
Nurse Burns as Nurse Burns
Guest appearance Neil Johnson