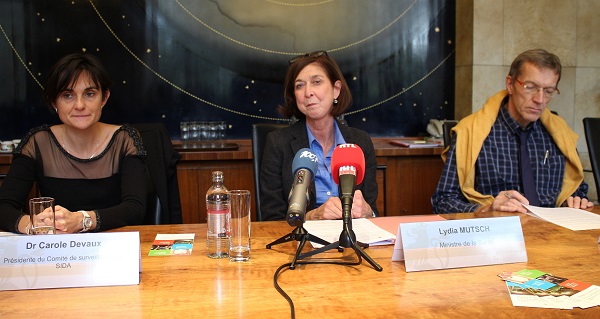 (L-R): Dr Carole Devaux; Lydia Mutsch, Minister of Health; Dr Vic Arendt; Credit: MSAN
On 1 December 2017, the Cabinet of the Luxembourg Government agreed in principle with the first National Action Plan against Hepatitis in the Grand Duchy of Luxembourg (PANHEL) for the period from 2018 to 2022; details have now become available.
"With this first hepatitis action plan, we are specifically aiming to improve the prevention, surveillance and management of chronic viral hepatitis in our country. This plan will guide the health sector," said the Minister of Health, Lydia Mutsch.
Main facts and figures
Viral hepatitis is a group of infectious diseases of viral origin of which there are several types: A, B, C, D and E. Viral hepatitis still pose a major health problem worldwide. About 257 million people currently live with hepatitis B while 71 million people are chronic carriers of the hepatitis C virus. Hepatitis kills nearly 1.4 million people a year, especially hepatitis B and hepatitis C.
These numbers are probably even underestimated because hepatitis C often goes undetected. Indeed, although the presence of viral hepatitis is revealed by a blood test, most people infected with hepatitis B and C are not aware of it.
WHO estimates that only 1 in 5 infected persons have acute symptoms. Even in this case, blood tests are often not performed, since these acute symptoms are often mild or confused with flu-like symptoms. If left untreated, hepatitis B and C may become chronic, leading to morbidity, cirrhosis or liver cancer.
New anti-viral drugs, however, could cure more than 95% of people infected with the hepatitis C virus, while the vaccine against hepatitis B has shown an effectiveness of 90% for adults and even 95% for children (WHO, 2017).
In Luxembourg: worrying situation with drug users
In the absence of precise figures, it is estimated that currently between 5,000 and 10,000 people suffering from chronic viral hepatitis live in Luxembourg. The virus is transmitted through the blood (e.g. drug users), sexually and from an infected mother to a child during pregnancy.
"I stress the real emergency that is currently developing in Luxembourg in the population of drug users and that has resulted in recent years in a real epidemic of new HIV infections and hepatitis. It is important to me that the action plan pursues an approach as inclusive as possible, so that we can reach all those who are particularly at risk," said Minister Mutsch.
Indeed, the type of drugs injected has changed, with a preference for drugs with short duration of action, requiring very multiple daily injections and thus dramatically increasing the risk of infections. The neuropsychic effects of these drugs also mean that users are often victims of social disruption (without employment, without income, without housing, without social security cover). Experts believe that it will first be necessary to offer them psychosocial assistance with access to housing if one hopes to be able to control drug addiction and offer medical treatment with success.
Five strategic axes to achieve the specific objectives
In order to achieve the specific objectives and priority actions, five strategic axes have been selected for the period 2018-2022. National coordination will be put in place to ensure the implementation of the action plan and will be responsible for regularly reporting progress indicators and proposing possible corrections to the plan and its implementation.
First, an analysis of the situation (axis 1) will be made in order to establish precisely the extent of the problem in our country by describing the characteristics of the people concerned and by indicating the prevalence and the annual incidence of case.
This will help feed and define a future prevention strategy.
A special focus on prevention
The second strategic axis aims at primary prevention in order to reduce the incidence of new hepatitis C virus infections in Luxembourg. More specifically, the aim will be to raise awareness among the general public, but also, and above all, to reach out to the most exposed groups (young people, drug users, men who have sex with men, the prison population, migrants, etc.) to reduce the risk of infections. An important component will be devoted to training and education. Particular attention will also be paid to the prevention of accidents of exposure to blood in the professional context (health professionals) and tattooing / piercing.
The third axis will focus on secondary prevention, thus preventing the complications of chronic infection. A priority here will be screening for people infected with hepatitis viruses, as many people are unaware of their infection in the absence of symptoms.
In order to prevent the transmission of viruses and to prevent re-infections, screening will be accompanied as much as possible by information-counseling sessions and target groups. Thus, given the large number of infected in this group, a priority will be the completion of an epidemiological, clinical and behavioural study among active and old drug users. This should also make it possible to trace former drug users in order to detect them, to characterise the progression of the disease and to refer them to medical care, if indicated. Other target groups may benefit from a similar approach.
The national plan also aims to promote rapid diagnostic orientation tests (TROD) to facilitate access to the diagnosis of certain precarious populations.
Fight the silent epidemic
The fourth axis concerns access to care, psychosocial and medical care and treatment to reduce the morbidity and mortality associated with chronic infection with hepatitis viruses. The plan provides for social measures (housing, supervision) for the benefit of the most vulnerable or socially disrupted affected populations, particularly drug users, to enable them to monitor treatment.
The main objective here will be to facilitate early access to care and standardisation of approaches by creating a multidisciplinary "hepatitis network".
The last strategic focus is on monitoring, research and evaluation. Thus, the national plan will be evaluated continuously during its implementation by following the main progress indicators selected.
"The potential for synergies of the National Hepatitis Action Plan with other national plans, including the HIV and the Drugs Action Plan, needs to be highlighted. Some of the measures announced below apply to the same target population, including drug users. By controlling the same risky behavior, the risks of HIV infection and hepatitis viruses are simultaneously reduced and the harmful consequences of drug use are prevented," said Minister Mutsch.
The total budget for the five-year plan, charged to the Ministry of Health's budget, is just over €10 million, or about €2 million a year.