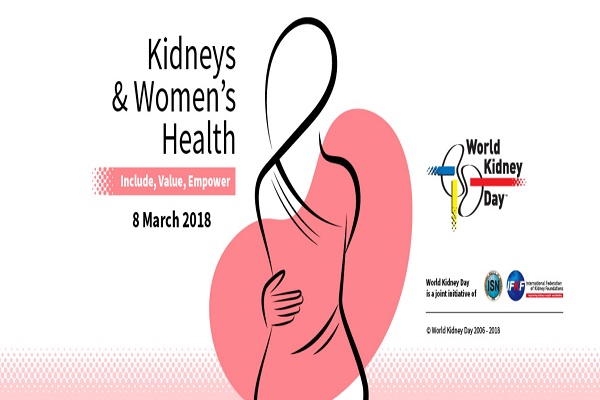 Credit: World Kidney Day
Initiated by the International Society of Nephrology (ISN) and the International Federation of Kidney Foundations (IFKF), World Kidney Day is celebrated this year on the same day as International Women's Day, on Thursday 8 March.
On this occasion, the Luxembourg Ministry of Health will attempt to raise awareness of the importance of women's health and the health of their kidneys, as well as the important role played by kidneys in the reduction of the incidence of renal diseases and associated health problems.
According to the World Health Organisation (WHO), one in ten adults suffers from kidney disease, nearly 600 million people worldwide. Moreover, WHO has predicted an increase in the prevalence of chronic kidney disease by 17% in the next 10 years. Every year, due to late diagnosis, millions of people die prematurely from chronic renal failure and associated cardiovascular complications.
However, kidney disease, although most often silent, can be detected early and its evolution slowed down, even stopped, thanks to new drugs, and thanks to the adoption of simple rules of hygiene and dietary.
Although less affected than men by kidney failure, women make up 40% of people with chronic end-stage renal failure. Renal diseases in women have specificities and particular consequences on fertility and pregnancy, the risks of complications during pregnancy when the woman is dialysed, the risks present when the pregnant woman is grafted and urinary infections that can lead to chronic renal failure.
In Luxembourg, the data from the health map show an average annual growth of about 6% of units of work performed in haemodialysis between 2006 and 2015. More concretely, at the national level, this represents about 60,000 passages in dialysis, 152 new patients treated in the various dialysis services of the country and about 800 hospital stays for chronic or acute renal failure in 2015.
World Kidney Day is therefore an opportunity for both women and men to get tested and check the functioning of their kidneys. In case of abnormality, this screening can allow early management.
For the fourth year in a row, Robert Schuman Hospitals is taking part in World Kidney Day to highlight the risks of kidney disease. The health care staff offers free information and screenings open to all, external and internal public at the bank, from 11:00 to 15:00 on the "Diversity Street" of BGL BNP Paribas, Kirchberg.
The CHL is also mobilising for this World Day and is organising a kidney-themed day to help preserve kidney health, from 8:30 to 16:00, in the lobby and in the R1 room of the CHL Centre. A doctor will be present from noon to 16:00 to answer any questions concerning the prevention of kidney diseases and the care of the dialysis patient.
Additional information is available on Sante.lu, as well as on the official website of the day http://www.worldkidneyday.org/.