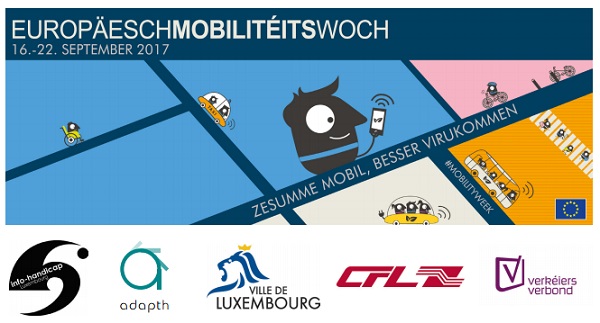 This past Wednesday 20 September 2017, Luxembourg Gare hosted the "Design for All" event during which various proposals were made regarding better adapted transport and infrastructure for persons with reduced mobility.
As part of European Mobility Week, held each year from 16-22 September, the CFL, Ville de Luxembourg (VdL), Adapth, Info-Handicap and the Verkéiersverbond together organised the "Design for All" event earlier this week. The event served to highlight the diversity of public transport to transport users.
Several stands in the Luxembourg Gare allowed visitors to learn about different subjects concerning people with reduced mobility as well as public transport in general, such as the Info-Handicap stand which offered information, orientation and awareness on the subject of disability in Luxembourg.
There were also stands from VdL's Integration and Special Needs Department, as well as from "Adapth", the national competence centre for buildings accessibility, and Mobilityitszentral, a service of the Verkéiersverbond and national coordinator of the European Mobility Week.
During this event, the CFL presented their projects to make the transport "Designed for All", ie adapted to the needs of everyone. Indeed, CFL are constantly involved in the development of infrastructures in order to adapt stations and stops to the needs of people with reduced mobility.
Currently, 12 stations and stops of the CFL have the European label "EureWelcome" awarded by the Ministry of Economy, highlighting accessibility for all. These are: Luxembourg, Belval-University, Bascharage, Belval-Lycée, Dippach-Reckange, Dommeldange, Dudelange-Factories, Lamadelaine, Leudelange, Mersch, Pétange and Schouweiler. Other stations and stops will follow, including Dudelange-Ville, Noertzange, Oberkorn and Sandweiler-Contern.
As part of the construction of new stops or stations, the "Design for All" principle is applied automatically, as in the Pfaffenthal-Kirchberg and Cents-Hamm cases. Disabled parking spaces are also provided at each stop or station.
For the visually impaired, all ticket machines are accessible by means of tactile gridlines. Additionally, all the new CFL trains have a wheelchair access ramp and a wheelchair accessible toilet and guidance lines and "talking" information will allow visually impaired people to orient themselves more easily.
Finally, as part of the "Design for All" initiative, the VdL has implemented its operational information project "iBeacon" at city bus stops since mid-September 2017. The project targets visually impaired people by allowing them to automatically access bus schedules via their mobile phone.