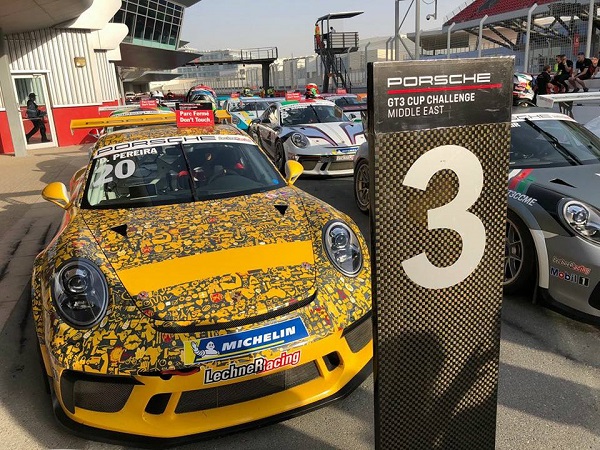 Dylan Pereira, 3rd in Porsche GT3 Cup Middle East Challenge;
Luxemburg driver Dylan Pereira, Autosport Personality of the Year 2017, is in the Middle East where he is currently preparing for his 2018 season in the Porsche Mobil 1 Supercup.
After a few months of inactivity and with a car at his disposal that had not suffered any fundamental adjustment, Dylan Pereira took up the challenge of jumping into the battle of the very competitive Porsche GT3 Cup Middle East Challenge.
This weekend saw the professional competition hold its 5th and 6th races of a total of 12.
For the first race, Dylan Pereira starteed in 3rd place on the grid, made a faster start than his opponents and led the race for nine laps. Pushed by Al Faisal Al Zubair, Dylan Pereira found himself off-track five laps from the end and had to retire.
In the second race, with the car recovered from the accident, the Luxembourge driver started in 6th place of the grid and made a spectacular comeback ending the race on the podium, in 3rd place in the 6th race of the Middle East Championship.
Despite a car that could not be optimally tuned, Dylan Pereira has shown excellent skills beyond Britain's Glynn Geddie, Al Wahaibi of Oman and Dutchman Charlie Frijns, to ensure a run and Luxembourg's colours on the road, to achieve a podium, with the winner Al Zubair of Oman and the British Tom Oliphant who finished second.
Dylan Pereira again meets the other 15 participants of the Porsche GT3 Middle East Challenge Cup next Friday and Saturday in Abu Dhabi.