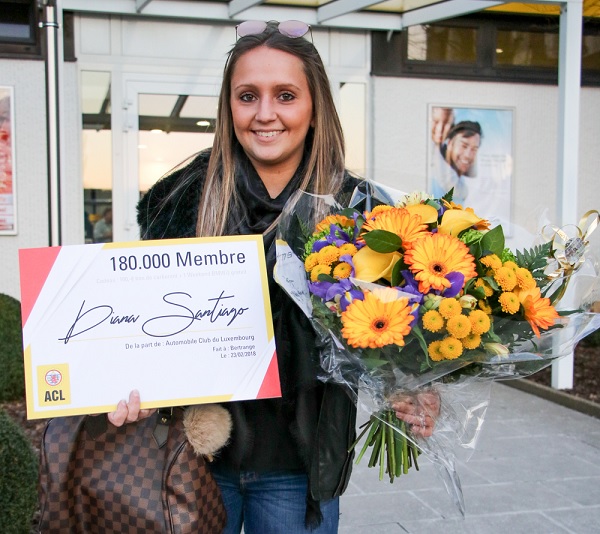 ACL's 180,000th member;
At this beginning of the year, the Automobile Club of Luxembourg (ACL) reached an important milestone: the club has just exceeded the threshold of 180,000 members - a sign of continuous efforts to offer its members services that have been improved for more than eighty five years.
On Friday 23 February 2018, the ACL hosted a small ceremony for Diana Santiago de Pétange, who has just joined the ACL and became its 180,000th member - she joined "YoungACL Europe". During a friendly reception, Diana Santiago was presented with fuel vouchers and will also enjoy a weekend driving in an electric car aboard the BMWi3 Clubmobil service.
Evolution
With a national population of 590,700 inhabitants and a fleet of no less than 403,200 cars in circulation (535,344 vehicle registrations of all categories combined at the end of 2017), the ACL undoubtedly occupies an important place both nationally and internationally, especially within the FIA ​​(International Automobile Federation).
Its evolution is due to qualified operators and technicians who guarantee the mobility of the members in all situations of distress, whether in the Grand Duchy and throughout Europe. In 2017 alone, the assistance centre intervened in more than 45,000 cases. Its services are operational 24/7 throughout the year and they strive in most cases to restore the broken down vehicles to get the members back mobile as quickly as possible. Not to mention that the Automobile Club also offers its members a unique offer of tourist information and technical advice of all kinds.
The ACL has extended the range of its services over the years: the YoungACL formula, which welcomes young people from the age of 16; the development of benefit and reduction programmes, the creation of an assistance service around housing (practical, especially in the event of a household breakdown on weekends), the proposal of various mobility solutions, ... are just a few examples.​