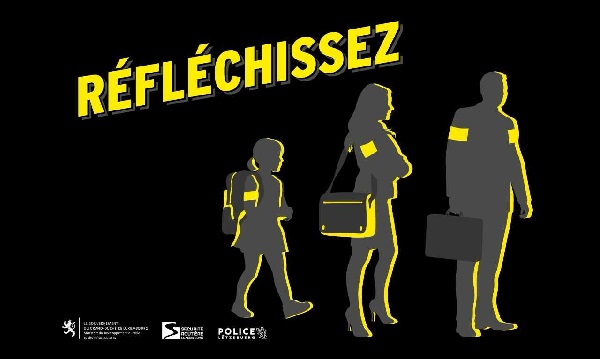 Credit: MDDI
In light of a series of accidents last year and already this year, the Luxembourg police has urged pedestrians to wear reflective clothing in conditions of darkness.
The year 2017 ended with two fatal collisions between vehicle and pedestrians- in the dark- and the series of accidents continues in 2018. In fact, over the past 5 years, nearly 65% ​​of vehicle-pedestrian collisions occurred in the dark.
At the beginning of the winter season, the Ministry of Sustainable Development and Infrastructure (MDDI), the Road Safety Association ASBL and the Police Lëtzebuerg launched the campaign "Gitt siichtbar - Think" to spread awareness of the problem.
The awareness campaign began with a distribution of 10,000 armbands and explanatory leaflets at the "Home and Living Expo" fair as well as a wide distribution on social networks and various media sites. Additionally, as part of this campaign, the police carried out some 2,800 preventive and repressive controls (excluding speed checks). A total of 2,300 offences were recorded up to 31 December 2017.
Nevertheless, accidents are more often due to speed than the visibility of pedestrians; even if the driver complies with the regulated speed limit of 50 km/h in built-up areas, this speed is often not adapted to the circumstances: darkness, rain, glare, wet and slippery road surface. In the context of calming traffic in built-up areas, Minister François Bausch has already granted 36 authorisations for the introduction of a speed limit of 30 on state roads and 13 projects are still under study. Within the municipalities, 73 have already introduced these "30 zones" and 9 communal projects are still under examination.
At the same time, the "Gitt siichtbar - Think" visual will be displayed on 45 road signs as of 31 January 2018 and widely distributed in the form of posters. A new distribution of armbands will also be organised on Saturday 27 January 2018 between 10:00 and 13:00 in Place Guillaume and its surroundings.