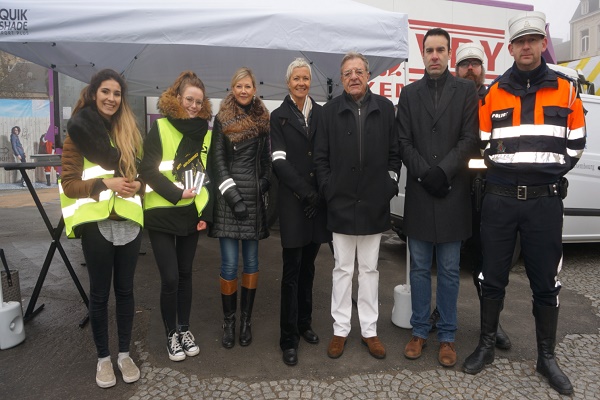 Distribution of armbands in Place Guillaume II; Credit: MDDI
At the beginning of the winter season, the Luxembourg Ministry of Sustainable Development and Infrastructure (MDDI), the Road Safety Association and Police Lëtzebuerg launched the campaign "Gitt siichtbar - Think" to tackle the problem of road accidents.
With nearly 65% ​​of vehicle-pedestrian collisions having occurred in the dark over the past 5 years, the awareness campaign aims to encourage pedestrians to wear more visible clothing in dark conditions.
The campaign began with a distribution of 10,000 armbands and explanatory leaflets at the "Home and Living Expo" fair as well as a wide distribution on social networks and various media sites. In addition, the police carried out some 2,800 preventive and repressive controls (excluding speed checks) and a total of 2,300 offenses were reported as of 31 December 2017.
The "Gitt siichtbar - Think" visual will be displayed on the 45 road signs as of 31 January 2018 and widely distributed in the form of posters.