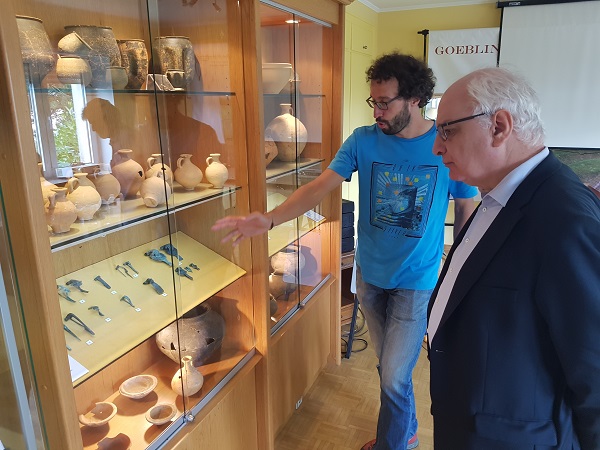 Secretary of state Guy Arendt at Nospelt archeological dig; Credit: MCULT
Following recent discoveries at the archaeological site of the Roman villa in Goeblange, Luxembourg's Secretary of State for Culture, Guy Arendt, visited the site on Thursday in the presence of volunteers of the "Georges Kayser Altertumsfuerscher" association.
Alongside the discovery of the almost complete exterior wall of a Roman building, the Luxembourg volunteers, supported in recent weeks by thirty volunteers from the Netherlands, were able to make further discoveries proving the exceptional size of the site - a total area of ​​more than 5 ha.
Secretary of State Arendt then visited the "Ausgriewermusée" museum located in the former parish house of Georges Kayser, located in Nospelt, where the many objects found in Goeblange, are cleaned, treated and catalogued before being exhibited alongside numerous photographs and documents relating to the archaeological site, and thus made accessible to the general public.
Secretary of State Arendt congratulated the voluteers for their discoveries while stressing the importance of their work: "Your voluntary commitment is exemplary, not only in terms of the excavations carried out but also in terms of awareness and the transmission of know-how and interest to the younger generations". Given the scope of the site in Goeblange / Miecher, Guy Arendt was convinced that other interesting discoveries will be made in the years to come.
The museum can be visited on request from the association: see www.gka.lu