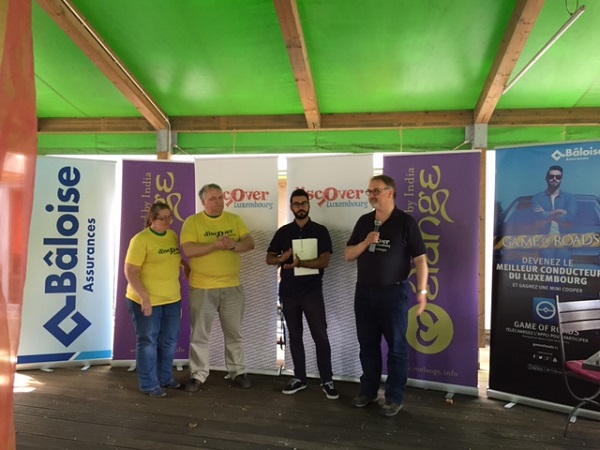 On Saturday 13 June, team SUSMAR, led my Mark Turner, won the 2nd annual Discover Luxembourg (by car) event.
Starting and ending at Mélange store in Luxembourg-Dommeldange, the route took particiants to Strassen and Bertrange before heading north to Useldange, Mersch, Diekirch and Ingeldorf. Along they way the teams had an number of questions to answer and challenges to compete, in order to earn points, with the latter comprising "walking the plank", "crates" (a version of the "chicken, fox and seed" conundrum), "observation" and "remote control".
This year's event incorporated a theme of chateaux, with reference to the Chateaux de Septfontaines, Useldange, Mersch and Fischach included in the route, along which participants had to stop off at sponsors BUROS, Total, BoConcept, ASport and Cactus.
A total of 6 makes of electric vehicles participated on Saturday, with BMW, Mercedes, Ford, Volkswagen and Renault providing cars for the participants; those teams bringing their own electric cars then added Tesla to the mix. Earlier, John Chalmers had presented a brief overview of electric vehicles and driving them.
Scoring was split equally, with answers to the questions and the challenges making up 50%, with the other 50% coming from the Game of Roads app by La Baloise which measures driving performance.
At the Finish Station, it was team SUSMAR which had scored highest on the Game of Roads app (583 points), with team We're Thinking scoring highest on the answers to the questions and challenges (410 points). SUSMAR won 1st prize overall (853 points) and got to wear the Maillot Jaune (yellow jersey) on the podium, with Elon4Ever second on 769 points and Team Steenfeldt 3rd with 765 points.
Some teams had decided to participate in the event to drive the 100km course in the company of other electric vehicles, including team Electric Car Lovers whio have been early proponents of electric vehicles in Luxembourg and who are currently on their 3rd electric car.
The Discover Luxembourg (by electric car) event was organised by G-Media sarl, publisher of Chronicle.lu. Its sister event, Discover Luxembourg (by foot) will be held on Saturday 5 September 2015 around Luxembourg city. Both events this year support the Omega 90 pallitive car facility in Luxembourg-Hamm.