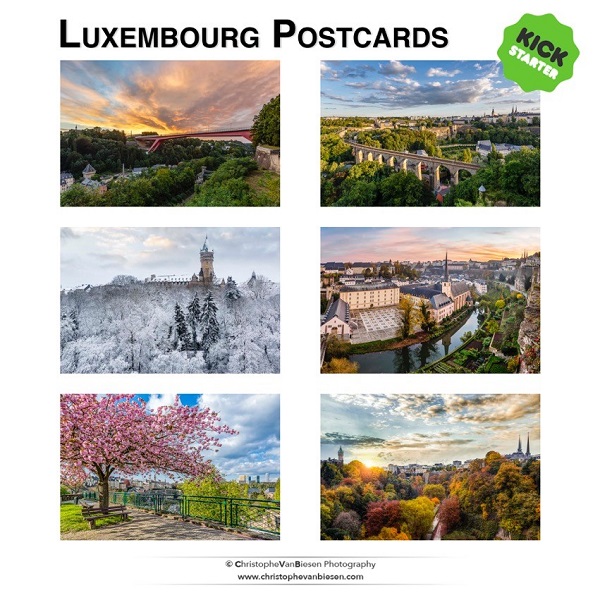 Christophe Van Biesen, a Fine Art Landscape Photographer in Luxembourg, has launched a crowdfunding campaign on Kickstarter for a series of postcards featuring Luxembourg landscapes.
Christophe explained to The Luxembourg chronicle "After the successful crowdfunding of last year's Luxembourg City Calendar 2016 project, I decided to come back to Kickstarter in order to bring to life another project in order to create a collection of postcards featuring some of my most popular pictures made in Luxembourg City and its surrounding countryside. Through this Kickstarter campaign, I would like to launch a set of 10 different postcards of pictures made in Luxembourg. Everybody who supports the project will receive one or several sets of these postcards depending on their pledge."
The postcard collection includes a set of 10 different postcards of pictures made in Luxembourg. The postcards are of a standard A6 size of 10.5 x 14.8 cm (4.1 x 5.8 inches) and are printed on 450g/m² paperboard which is of much higher quality than most other postcards.
•1 Luxembourg Postcard set: €25
•2 Luxembourg Postcard sets: €40 (Save €10)
•3 Luxembourg Postcard sets: €60 (Save €15)
•5 Luxembourg Postcard sets: €100 (Save €25)
The crowdfunding campaign was launched one weeks ago, with three weeks remaining of the month-long campaign. Depending on its level of success, Christophe intends to continue producing new postcards in the future.
For details, see www.kickstarter.com/projects/1641188748/luxembourg-postcards