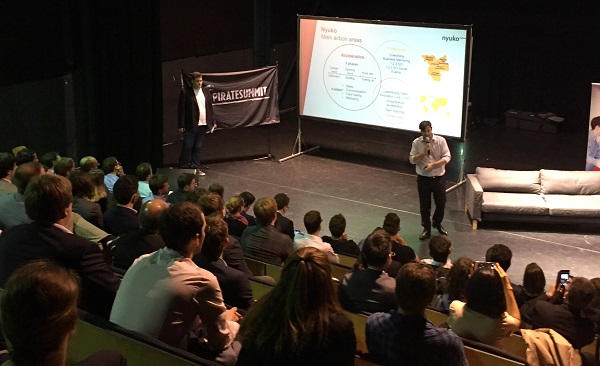 Pirate Summit, the largest series of events created for and by start-ups, held an event at Rotondes on Wednesday 8 June 2016 as a means of discovering the dynamism of the Luxembourg ecosystem in Europe.
Pirate Summit first came about as a unique event in Cologne in 2010, before becoming a multiple month tour of major European cities to connect entrepreneurs and local investors through evening events. The focus is on early-stage start-ups in search of their first fundraiser.
After the tour and a selection of the best start-ups in each city, the team will regroup in Germany for the final competition in September. In Cologne, the main event is an open air competition featuring pitches from the best start-ups of the year.
"We are bringing together the best start-ups and their matching investors," explained Till Orhmann, co-founder of the Pirate Summit. "Set in an old disused funfair, the atmosphere is crazy. An entrepreneur is like a pirate: they must take risks, hunt for treasure and go through good and bad moments of adventure!"
Wednesday was not the first time that Luxembourg has hosted the Pirate Summit, with the event having already dropped anchor at the last ICT Spring. This year, efforts from nyuko and Luxinnovation, as well as local partners, have seen the event grow and the event had helped put the Grand Duchy on the map of European countries with regards to entrepreneurship.
"It is important to show than even if the country is amll, it has large-scale reach and potential," commented Martin Guérin, CEO of nyuko. "It's a key concept for Luxembourg start-ups wishing to internationalise."
Till Orhmann added: "I see the start-up ecosystem grow in Luxembourg, and I hope that it continues to return next year to an even bigger audience!"
On the evening of 8 June, a presentation of local partners and Pirate Summit by co-founder Till Orhmann was followed by a round table, the pitches of nine selected start-ups and a networking session. Each project promoter was given 3 minutes to make their case, with several sectors represented including health, 3D, finance and robotics.
A jury composed of experts from the local ecosystem delivered their verdict following the event: LuxAi convinced the panel with its functional robot, which helps to create social interaction with children with autism, whilst OrgaMime has also made it to the final in Germany as a start-up demystifying intestinal mechanisms through a smart chip.
Photo by nyuko