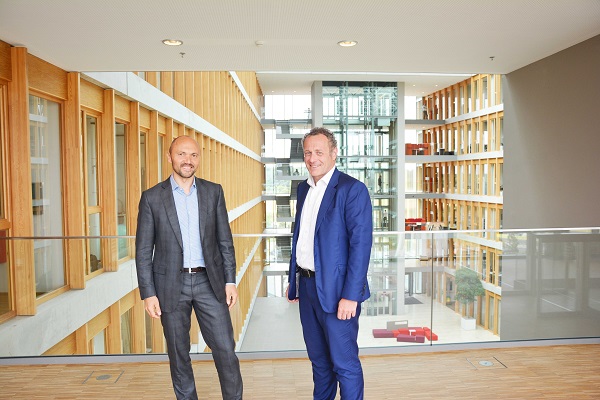 Since 2012, PwC's Accelerator has been helping fast growing technology companies accelerate and streamline their international expansion to create sustainable value. CEOs of over 40 companies from several countries have already made the most of PwC's Accelerator.
For the first PwC Cyber Security Day (#cyberseclu), taking place at Crystal Park on Tuesday 18 October, the Cyber Security expert network of PwC Luxembourg and PwC's Accelerator have joined forces and selected ten innovative Cyber Security companies from across Europe, Israel and the United States.
"Exploring and expanding your footprint within the Cyberspace has become the new norm for all companies all over the world. On top of the potential growth, such an evolution exposes them to new types of risks including more frequent and more sophisticated attacks", said Vincent Villers, partner and Cyber Security Leader at PwC Luxembourg. "Without cooperation, the world stands no chance in effectively fighting online wrongdoers. It's essential to maintain direct, on-going contact with the latest developments and changes within the Cyber Security area".
Bringing together the realm of cybersecurity
The PwC Cyber Security Day will bring together players and sectors active in Cyber Security to help reinforce the value of cooperation across borders and industries. The findings of the PwC's Global State of Information Security Survey 2017 will be revealed, sharing the most recent cyber trends and developments to help corporate organisations transcend and transform their business. "We've invited industry experts from public and private sides of the ecosystem to offer their perspectives on how we can engage better, work smarter and collaborate more effectively to foster innovation and overcome transformational challenges," announced Laurent Probst, partner and PwC's Accelerator Network Global Leader.
The PwC Cyber Security Day will gather leaders of the cyber industry, decision makers and key experts from around the world presenting strategies and solutions that meet the diverse challenges for a wide range of sectors. Some of the most active players and thought leaders in the cyber area will share the stage: Luca del Monte (ESA Space Economy Manager), François Lavaste (Head of Cyber Security, Airbus DS), Guy-Philippe Goldstein (CEO - Makafriend, Senior Analyst – Wikistrat and TEDx talker), Dennis Smith (Managing Partner and Founder – Evolution Equity Partners) and Yoav Tzruya (Partner – Jerusalem Venture Partners).
Francine Closener, Secretary of State for the Economy, Secretary of State for Internal Security and Secretary of State for Defence will open the conference - giving a speech on cybersecurity as a strategic interest for Luxembourg.
The event will also feature presentations on how Cyber Security trends, opportunities and challenges affect the evolving role of the Chief Information Security Officer (CISO).
The event will showcase ten highly innovative Cyber Security companies, selected among a hundred applications from around the world, that will be pitching their next-generation solutions on stage:
Quarkslab - France
Quarkslab's mission is to protect sensitive data for companies facing highly sophisticated cyber-attacks. Established in 2011, the French company provides security products and services for public and private organisations looking for tailored solutions to secure highly constrained environments. Their specialities include reverse engineering, penetration testing, software development and vulnerability assessment.
enSilo - US
enSilo offers a real-time data protection platform against advanced attacks. The company focuses on preventing the consequences of cyber-attacks: theft and tampering of critical data. enSilo enables organisations to continue running their business operations securely and without interruption, even during investigation and remediation of attacks, by blocking in real-time any data-related malicious activity.
IRONSCALES - Israel
IRONSCALES combines human intelligence and machine learning in a way that allows automated phishing email incident response. Their comprehensive phishing mitigation solution is designed to protect enterprises from cyber-attacks. Based on a gamified training program and a unique crowd-wisdom approach, the IronTraps automated incident response is immediately executed when a phishing attack is reported by employees.
Picus - Turkey
Picus's security assessment software offers a new paradigm with its "Continuous Security Validation" approach. It fills the gap that pen-test, vulnerability management and policy management solutions can't address. Picus provides the required insight on enterprises' readiness to cyber-attacks by continuously testing defence layers with real cyber-attacks in production environment. This approach helps organisations to significantly enhance their security success rate without making new investments.
RedOwl - US
RedOwl is the human-centric approach to insider risk for information security and regulatory surveillance. Their focus lies in the human layer of the enterprise to help clients mitigate insider risk. The company's proprietary technology integrates structured and unstructured data to provide holistic visibility into nuanced human activity, patterns, and long-term trends, which comprise enterprise business risk.
Morphisec - Israel
Morphisec emerged from Israel's national cybersecurity centre. In spring 2016, they released their enterprise-ready endpoint security solution. Their solution is a licensed product based on a subscription model, which can be provided as a direct sales or MSSP contract (Management Security Services Provider) via partners and resellers. Positioned as Endpoint Security for advanced threats prevention, they are an alternative or a higher priority than Endpoint Detection and Response. In May 2016, Morphisec was named "Cool Vendor" by Gartner.
NetGuardians - Switzerland
Based in Switzerland, NetGuardians takes a unique approach to fraud and risk assurance solutions by leveraging Big Data to correlate and analyse behaviours across the entire bank system – not just at the transaction level. Their solution combines the technical know-how of NetGuardians' R&D team with their solid understanding of the evolving risk challenges faced by banks in a border-free world.
Skybox Security - US
Skybox Security arms enterprises with integrated security management solutions that give visibility of the attack surface and key Indicators of Exposure (IOEs). Their solutions unify data by integrating with dozens of security technologies organizations are already using. With analytics, modelling and simulation, Skybox provides security leaders the insight needed to quickly prioritize, address vulnerabilities and threat exposures in the context of the business environment, increasing operational efficiency by as much as 90 percent.
Digital Shadows – US/UK
Digital Shadows provides cyber situational awareness to help organisations protect against cyber-attacks, loss of intellectual property, loss of brand and reputational integrity. Jointly headquartered in San Francisco and London, their flagship solution, Digital Shadows SearchLight™, is a scalable and easy-to-use data analysis platform that provides a complete view of an organisation's digital footprint and the profile of its attackers.
SecurityScorecard - US
SecurityScorecard assesses any organisation and their third party vendors across ten critical security categories such as Patching Cadence and Endpoint Security, analysing hundreds of data points and identifying key risk indicators that can lead to a data breach. The company collects millions of data points across the internet in order to look at any organisation's vulnerabilities from an external perspective, in the same way a hacker would.
"The ten companies finally chosen will showcase the most promising next-generation solutions in Cyber Security," said Laurent Probst, partner and PwC's Accelerator Network Global Leader.
Two of them will be announced as the great winners in a ceremony at the end of the day (Most Promising Company and People's Choice award).
Market needs and networking
The PwC Cyber Security Day will provide attendees with a unique opportunity in Luxembourg to become familiar with the latest innovation and solutions from the international cyber community. "Our forum will also serve as an incredible B2B zone, with a strategic networking with the pitching companies, strengthening existing alliances, and forming new ones" added in conclusion Vincent Villers.