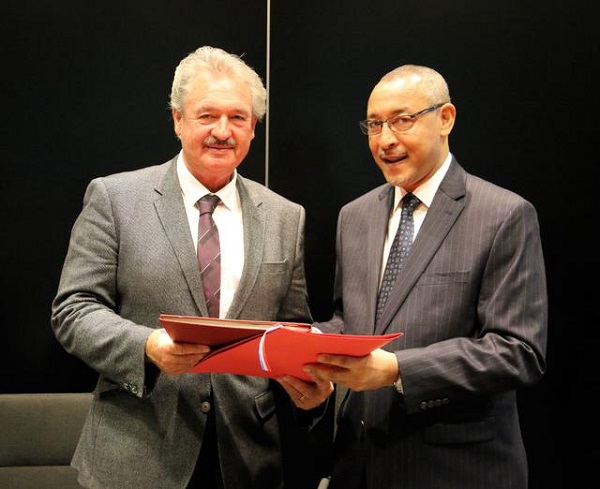 The seventh ministerial meeting of political dialogue was held yesterday in Luxembourg between Cape Verde and the Grand Duchy, during which further collaboration between the two countries was discussed.
The meeting was co-chaired by Luxembourg Minister of Foreign and European Affairs, Jean Asselborn, and the Minister for Cooperation and Humanitarian Action, Romain Schneider, in place of the High Representative of the Union for Foreign and European Affairs and Security Policy, Vice-President of the European Commission, Federica Mogherini. The Cape Verdean delegation was headed by Minister of Foreign Affairs Jorge Tolentino.
The two countries have been bound by a Special Partnership since 2007, which was established with a view to strengthening dialogue and bilateral cooperation based on six key pillars: the fight against poverty, good governance, security and stability, science and technology, technical and normative convergence and regional integration. Both sides reaffirmend their commitment to sustained political dialogue through the partnership, which is based on common values and principle which go beyond the traditional donor-recipient relationship, a unique example among African, Caribbean and Pacific states.
The EU commended Cape Verde for the progress the country has achieved in the renewable energy sector, in the adoption of its action plan on security and stability and in the implementation of visa facilitation agreements and readmission, with the latter constituting part of a mobility partnership linking the EU and Cape Verde.
Co-Chair of the meeting Minister Asselborn addressed specific regional crisis and international issues, emphasising the importance "that the partnership between the EU and Cape Verde [be] based on sharing the same principles of democracy, the rule of law and respect for human rights and the promotion of peace and international security".
Minister Romain Schneider for his part chaired the ministerial dialogue panel concerned with the Special Partnership, the mobility partnership, issues relating to development cooperation as well as economy and trade.
"The EU is fully aware of the vulnerabilities of the country from a geographical point of view," explained Minister Schneider, who wished to stress the potential and the importance of the EU's close cooperation with Cape Verde. "This vulnerability has unfortunately been confirmed by three events in the space of a year: the eruption of the Fogo volcano, the drought and the passage of Hurricane Fred. During these events, the EU was by Cape Verde's side and mobilised the rapid budgetary support to help deal with these situations".
On the sidelines of the meeting, migration cooperation between Luxembourg and Cape Verde was further enhanced through the signing of a bilateral cooperation. The agreement, under the EU's Mobility Partnership with Cape Verde, covers migration management by providing facilitations for legal migration, measures aimed at inclusive development and circular migration as well as provisions for readmission.
Photo by MAEE (L-R: Luxembourg Minister for Foreign and European Affairs, Jean Asselborn; Cape Verden Minister for Foreign Affairs, Jorge Tolentino)