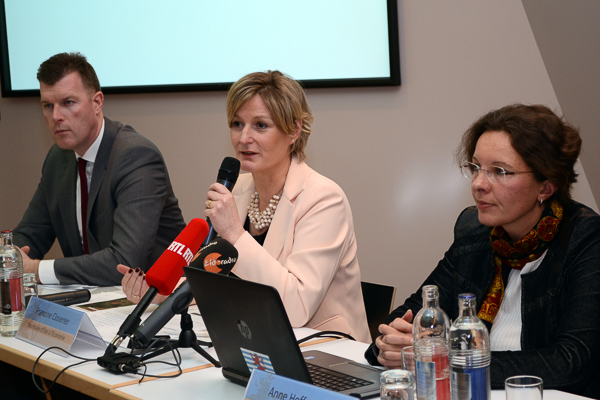 During the first Luxembourg "Tourism Day" on 15 February, Secretary of State for Economy, Francine Closener, gave a positive assessment of the industry over the past year building on the progress made over previous years.
Luxembourg hosted 2.97 million overnight stays in 2016, setting a new record for the fourth year in a row, and representing a 0.2% increase for hotels, 1% increase for youth hostels, and a 1.5% drop for campsites.
The 3% jump in the number of leisure travellers has validated the effectiveness of LfT's promotion strategy in target markets. In business tourism, the MICE segment (Meetings, Conventions, Incentives, Events) fell 14.8% after an exceptional 2015 marked by the Presidency of the Council of the European Union. On the other hand, business tourism excluding MICE is up 3.1%, after years of decline.
While in 2016 the number of campsites decreased by 1.5% compared with 2015, rental housing recorded an increase of 8%, reflecting traveller preference for the rental of fixed infrastructures in campsites. With a total volume of 135,084 overnight stays, youth hostels grew by 1% despite the closure of the Eisenborn Youth Hostel.
The increase in the number of hotel overnight stays masked a drop in the hotel occupancy rate, which fell slightly, by 0.3%, due to the increase in the number of rooms available, by 0.7%. At the national level, the occupancy rate was 72.2%.
At the regional level, the occupancy rate in the central region was 75.6%, in Mullerthal at 49.8%, up 5.8%, the Ardennes recorded 67.5%, down 3.7%, and the South 71.5%, down 2.6%. The Moselle saw the best growth, with a rise of 11.2% in overnight stays and an occupancy rate of 64.3%.
In 2016, visitor numbers from neighbouring countries also represented significant rises in hotel stays. The number from France went up 4.3%, Germany 0.8%, Belgium 0.2%, from the Netherlands, up 4.7%, Italy 9.5%, and Switzerland by 2.4%.
On the other hand, significant drops in the number of travellers from more distant markets testifies to the impact of geopolitical news on tourism. The number of travellers from the United States fell by 19.1% and from Japan by 21.3%.
Castles were the most popular sites visited. Vianden welcomed 171,722 visitors, an increase of 5.9%. Museums came second, and among them MUDEM saw 97,091 visitors a jump of 6.7%, and the National Museum of History and Art saw 63,974 an increase of 6.2%. The Mullerthal Trail was tackled by 105,757 hikers last year.
Image: Ricky Wohl, Minister of Economy, Francine Closener, Secretary of State for the Economy and Anne Hoffmann of Luxembourg for tourism. © MOE