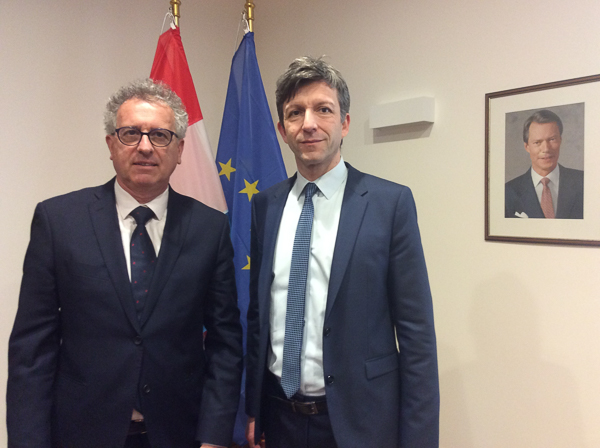 Finance Minister Pierre Gramegna today officially introduced Carlo Fassbinder as Director of Taxation at the Ministry of Finance.
Carlo Fassbinder, born in 1969, holds a master's degree in business law from the Robert Schuman University in Strasbourg, as well as an LL.M. in tax law from the University of Munich. He started his professional career in 1997 as a tax advisor to a major bank in the city. Since 2011, he has been Head of Tax Retail & Corporate Banking.
Pierre Gramegna said "Carlo Fassbinder distinguishes himself by his profound knowledge of tax matters, his managerial experience and his excellent analytical skills. Coming from the private sector, it is well positioned to gauge the challenges faced by Luxembourg in the face of changing international economic and financial news. I look forward to our new collaboration and wish him every success in his work in the Department of Finance."
Image: Pierre Gramegna and Carlo Fassbinder. Photo supplied