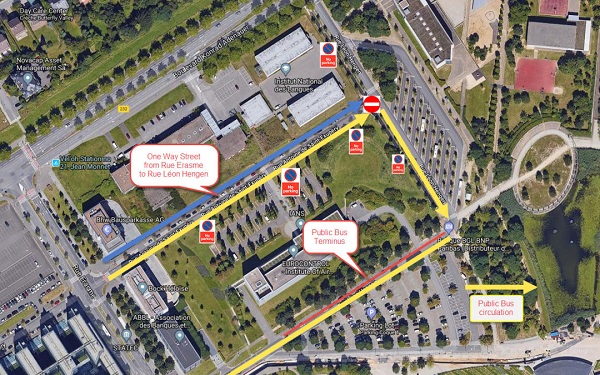 From 13:00 this Sunday 10 December 2017, the first phase of Luxembourg city's new tram system will operate, the new railway stations at Howald and Pfaffenthal-Kirchber will open and the funicular railway from Pfaffenthal to Kirchberg will enter into operation; at the same time, the Ville de Luxembourg will make changes to some bus routes (both city and regional) to allow for the integration of the new forms of transport, etc.
As some of these changes will affect traffic around the European School in Kirchberg, the Parents' Association (APEEE) is urging all parents to avoid the area around rue Léon Hengen if at all possible when dropping off and collecting their children.
The reason for this is that a new bus terminus will be located in Rue Léon Hengen (opposite D'Coque) for seven regional bus lines. These lines are to be routed from Rue Antoine de Saint-Exupéry to Rue Léon Hegen - the opposite direction on Rue Léon Hengen to the buses for the European School. The Rue Antoine de Saint-Exupéry will be "one-way" toward the primary school, and bus lines temporarily routed from Bvd JF kennedy to BvD Konrad Adenauer via Rue Richard Coudenhove-Kalergi (Richard C-K) will be made permanent.
The Rue Richard C-K passes in front of the European School Nursery school (3-4 year-old children); the APEEE is warning that the safety of children will be at increased risk with more heavy vehicles in the vicinity of the school at peak times.
No changes are being made to speed limits (currently 50 km/h on rue Richard C-K), and no new warning signs are to be erected displaying that there is a school (current signs partly obscured by trees) in the area.
All of this was news to not only the parents association but also the school last week-end when details of the bus re-routing were announced. The Parents Association is seeking a meeting with the Ville de Luxembourg, Fonds de Kirchberg and Batiments Public to explain their concerns and to explore solutions. In the meantime, the message to parents is to,wherever possible, have their children use the school buses or public transport but, if it absolutely necessary to use private vehicles, then to avoid Rue Léon Hengen and to use the the car parks in Boulevard Konrad Adenauer.
For further details, see http://www.apeeel1.lu/presidents-blog/