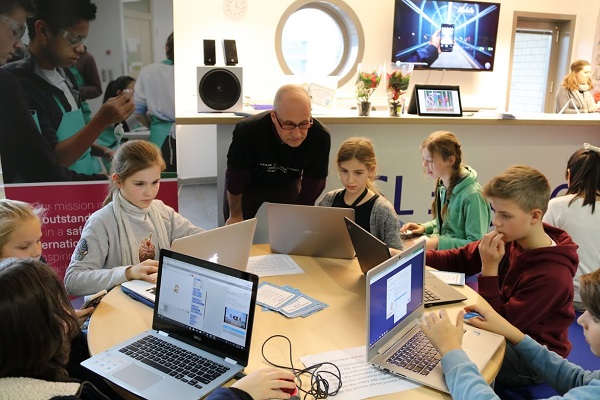 For the fifth year in a row, students from the International School of Luxembourg (ISL) took part in 'The Hour of Code' as part of Computer Science Education Week (CSEdWeek) which ran from 4 to 10 December 2017.
CSEdWeek is a worldwide annual programme. It was founded to increase computer science education at all levels, and to emphasise the critical role of computing in all careers. Every industry now uses computers in some way and smartphones and tablets have become a part of everyday life for a large part of the world.
Throughout the week students at ISL took part in activities to develop their computational thinking skills. Computational thinking is the thought process involved in understanding a problem and formulating a response to it that a computer, human or machine, can then take and use to carry out a task. One activity that reflected this involved the students creating basic code commands to successfully direct a robotic ball around a maze.
Students also took a wireless router apart so they could see how it provides access to the internet, completed The Hour of Code, and tested internet security to understand the risks when personal data is not stored securely.
ISL Director, Nicki Crush, said: "We can't predict the careers and ways of living in the future but we do know our students will have to think about the world in a different way, which coding helps them to do and that's one of the reasons why we have CSEdWeek at ISL. It is a great initiative to further develop student's problem solving skills and it provides them with another valuable skill for life."
In 2013 ISL was the first school in Luxembourg to take part in 'The Hour of Code' The campaign is now supported by over 350 partners including Google, Microsoft and Facebook, and more than 100,000 educators worldwide. Anyone can take part in the hour of code: https://code.org/
Background
Hadi Partori, a successful Iranian technology entrepreneur, set up Code.org. It is a non-profit campaign dedicated to expanding access to computer science and increasing participation from women and underrepresented minorities. Code.org organises the annual Hour of Code campaign which has engaged 10% of all students in the world.