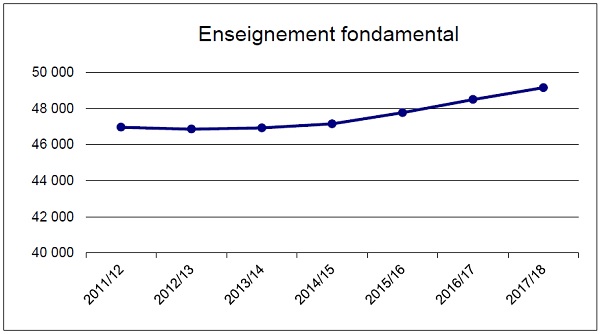 With some schools having already reopened for the start of the 2017-2018 academic year, including St George's, the ISL and the European School, others including the Luxembourg state schools are due to re-start next week.
For the coming school year, a total of 49,151 pupils are enrolled to start the school year, of which 514 are from international programmes and 117 are undergoing official private tutoring; this represents a continued growth annually since the 2011/12 academic year, and up 656 from last year.
In secondary schools, 11,890 pupils are registered for the Lycées Classiques, with 24,490 registered for the Lycées Techniques. The largest schools are as follows:
- Lycée technique Mathias Adam (1,943)
- Lycée technique du Centre (1,941)
- Lycée technique de Bonnevoie (1,886)
- Lycée Classique Diekirch (1,817)
- Lycée des Arts et Métiers (1,648)
- Lycée technique d'Esch (1,644)
- Lycée Nic Biever Dudelange (1,637)
- Lycée Michel Lucius (1,599)
Of the non-state schools, the European Schools are by far the largest, with 5,976 pupils registered to start this academic year, with the Lycée Vauban at 2,214. According to the statistics from the Ministry of Education, the ISL has 1,459 pupils registered and St George's International School has 775.