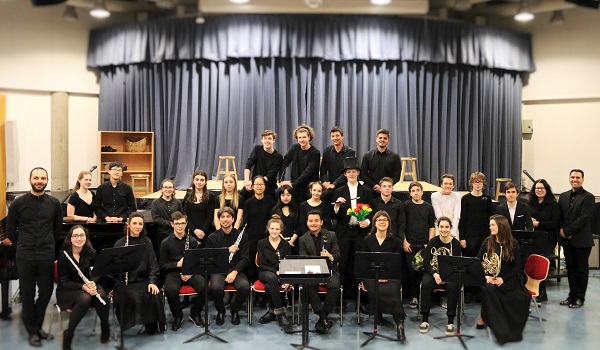 On Wednesday 31 January and Thursday 1 February, professional musicians from Orchestre de Chambre de Luxembourg (OCL) performed together for the first time with twelve students from the ISL, at the ISL Upper School Auditorium.
They performed a children's musical fable called "The Magicians Shoes" by American composer and pianist, Richard Lane, and conducted by the renowned German conductor, Kiril Stankow.
The Magicians Shoes is a story about the grass not always being 'greener on the other side' with the main character (a pair of shoes!) learning to appreciate what he has. It's entertaining for adults and children alike. During the captivating show, there was also puppetry, theatre and dance.
This collaborative interdisciplinary project began because teachers at ISL and musicians at OCL wanted to create an educational partnership that would enable students to have an authentic learning experience.
There were also musical performances by other students from ISL and St George's International School, including pieces for piano, flute, voice, clarinet and a rock band as well as two student-composed world-premieres.
Student Ian Kearns premiered his self-composed piece called 'Aphrodite'on the guitar. He was accompanied by fellow students, Jack Hewett on the bass guitar, and Ethan Rogers on the drums. Together they are the rock band Girl Scout Cookie Addicts.
Ian, who is 16, has already composed 16 pieces of music. He likes to channel music he listens to when he is composing, including music from bands such as the Arctic Monkeys, and Bloc Party. Ian estimates that it took him about 30 hours to compose the piece entirely as he likes to take his time and keep building on his initial compositions. In his words: "Everything you create and then cast off to the side in the process is not wasted. Without those cast offs you could never get to the final piece. Composing to me is about the journey and not just the destination."
Student Eunju Moon performed a piece she composed for piano and clarinet called 'Waves'. Eunju, who is originally from Korea, wanted to create a piece that sounded Asian, but had a twist - so it is performed using western instruments. Her fellow student Sydney Dam accompanied her on the clarinet and chose the song title as she thought the piece sounded like waves gently crashing when she first heard it.