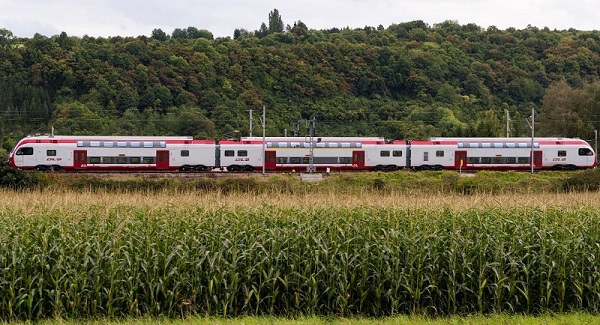 Progress in cross-border rail traffic between Luxembourg and Germany; Credit: CFL - DB Regio AG
In a Europe-wide procurement procedure, DB Regio AG emerged as the winner of the tendering process; from the timetable change in December 2019 it will operate a new regional train to Luxembourg.
This will almost double the number of daily train connections between the Trier region and the Grand Duchy of Luxembourg. In addition, all stations between Trier-Ehrang and Wittlich will then have an hourly direct service (Mon-Sat, between 05:00-21:00) to Luxembourg. This means a significant improvement in the cross-border connection to Luxembourg for the numerous commuters and the Luxembourg railway customers. These changes will also benefit CFL passengers on the Wasserbillig-Luxemburg section.
The cross-border operation of this line requires close cooperation between CFL in Luxembourg, and DB Regio AG as the future operator on the German side. The multi-system rail vehicles needed to provide cross-border transport services on the RB 83, modern KISS type electric double-decker trains from Stadler, have been procured by CFL in consultation with the SPNV Nord and become DB Regio AG for operation on the German section of the line.
In recent years, there have been considerations to integrate the western route because of its favourable location and its state of development as an electrified main line for rail passenger transport. "Efforts to continuously improve cross-border traffic are now bearing fruit in Germany as well. The reactivation of the western route from December 2019 will make rail travel much more attractive to cross-border commuters on the Wasserbillig line. For Luxembourg railway customers, the additional new Stadler trains, which will serve all stations every hour from 2019 between Wasserbillig and Luxembourg, represent a clear advantage. They will solve the existing problem of the current timetable, as the intercity trains to Koblenz will serve several stops on the Luxembourg side," said François Bausch, Luxembourg's Minister for Sustainable Development and Infrastructure.​