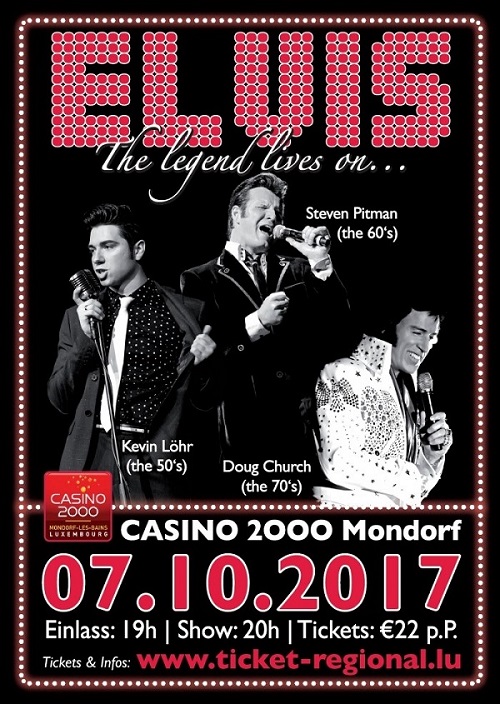 On 7 October 2017 Casino 2000 in Mondorf les Bains (rue Flammang) will put on a special tribute show to commemorate the 40th anniversary of the death of global superstar Elvis Presley.
Three top Elvis impersonators will present three decades of his life, with Kevin Löhr, 3rd placed in the 2016 Birmingham Elvis championship, showcasing Presley's early years in the '50s, Luxembourg's Steven Pitman, 2015 European Elvis champion, reliving the '60s, and Doug Church, Ultimate Elvis semi finalist in 2015 and 2017, representing the legend in his final years in the '70s.
Backed by 13 piece big band "The Celebrations", the show will cover the three decades of Presley's fame with many of his greatest hits including "Suspicious Minds", "Always on my Mind" and "Blue Suede Shoes", but without falling into the trap of charicaturing Presley in doing so.
Ticket prices are €22 per person, or a special club price of €18 for adults who buy a ticket in person from the Casino reception. For those wishing to eat, reservations can be taken for Purple Lounge or, exceptionally, the Manège buffet.
Further information is available from www.Casino2000.lu