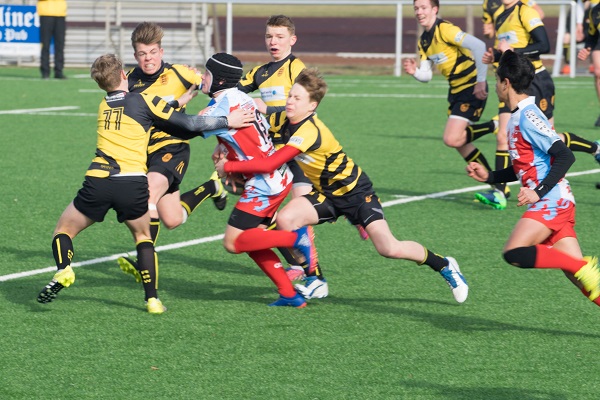 On Sunday morning, Luxembourg Rugby U16s and U18s travelled to Heidelberg, the heartland of German Rugby, to play a selection from the Rugby-Association of Baden-Wuerttemberg region of Germany (population 10.51 million; Rugby Clubs: 19; Registered players: 2,900)
After an easy win for the German U16s in 2016 at Cessange, the hosts were favourites and started the first half strongly. A brave Luxembourg defence repelled the home side for the first 15 minutes before conceding a penalty under the post to make it 3-0. The Junior Red Lions immediately responded with a penalty kick from Matteo Franzina and a try from outside centre Oscar Humble who has just returned from a long term injury. Franzina converted to make it to 3-10 to the visitors.
The match was divided into three 20 minute thirds to allow for the teams to rotate their squads. Moments before the end of the first break, full back Alex Martinatti whacked an enormous clearance kick 50 metres down field and somewhat fortuitously found touch inches before the corner flag. The resulting Germany lineout was spilled and Number 8 Chobe Sweetnam scavenged the ball and bundled over the try line to make it 3-15. Franzina again converted from a tight angle in a strong wind to make it 3-17 at the break.
Early in the second period the Germans responded strongly. Luxembourg were reduced to 14 men when Arthur Bausch was yellow carded for a high tackle. Luxembourg defended stoutly for nearly five minutes on their try line but did not concede. The next score was again for the visitors when Matteo Franzina broke through several tackles to score and converted. Oscar Humble added a second try before Sean Hagermak intercepted a pass on his own try line to run 90 metres to score, as lactic acid was seizing control of his body. A final score of 3-46, flattered Luxembourg and was not representative of the possession. However Luxembourg was rewarded for tenacious tackling and courageous try line defence. In attack the backs ran straight and hard and looked a constant threat. The whole team were outstanding but scrum half Sean Howat, playing his first time at 9 this season deserves special praise. Captain Hugo Bertani controlled the game well from 10 and neutralised the considerable threat from his opposite number. Team Manager Angelo Vai, and coaches Louis Mulder and Alexandre Benedetti, were delighted with the squad's performance.
After beating the Germans at Cessange last season, the Luxembourg U18s were hopeful of a fourth consecutive victory. However, while the U16s benefited from injured players returning to the squad in time for Sunday, the U18s were facing a test match without many crucial players. The inspirational Tony Drennan was injured in a league match a few days before so had to settle for a role as water boy.
with all the regular number 9s unavailable, Costas Nunes stepped up to play scrum half from his normal full back club position. Baden-Wuerttemberg started strongly with an early converted try and penalty. Another German score was replied by a Costs Nunes penalty before Carroll charged down a clearance to give Lux some hope, Costa Nunes converted to make it 17-10 at half time.
An early second half German score made it 24-10 and Luxembourg looked in trouble. Luxembourg refused to give up, however, and responded with a series of neat off-loads before Carroll scored again. Costa Nunes made the conversion from the touch line to make the score 24-17 with five minutes to play. With moments remaining, and the visitors gaining in confidence a pass was spilled and Carroll pounced to make it 24-22. The conversion shaved the post, but the wrong side of the post to leave Luxembourg hearts broken but very proud of a spirited fight-back.
The two teams play the return leg of this fixture on Sunday 12 March at Cessange