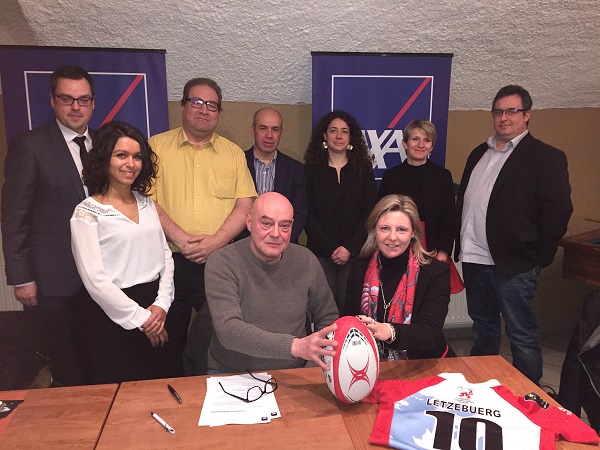 Steve Karier, Luxembourg Rugby Federation; Marie-Hélène Massard, CEO AXA Luxembourg;
AXA Luxembourg has affirmed its attachment to rugby by becoming official sponsor of the Luxembourg Rugby Federation.
In addition to a financial contribution, AXA will also offer human and logistical support (equipment for the organisation of matches and friendly spaces for fans ...) for the international match on Saturday 14 April 2018 between Luxembourg and Finland at the Stade Josy Barthel, in the framework of the European Championship of Nations.
"Tenacity, rigor and surpassing oneself are values ​​that we share with the sporting world, especially that of the oval world. In a business as on the field, we must perform collectively to succeed. We like the idea that everyone can have their place - the props, the throwers, the backs ... and bring their skills, whether big or small, strong, fast, powerful or agile. It is therefore natural for a local company such as AXA to continue its commitment to rugby to Luxembourg, especially as it is a great tool for social diversity and fulfillment" explained Marie-Hélène Massard, CEO of AXA entities in Luxembourg.
"For the Luxembourg Rugby Federation, it is profitable to have sponsors from international companies like AXA. Their vision and strategic sense will enable us to promote and develop the knowledge and practice of rugby in the Grand Duchy," explained Steve Karier, President of the Luxembourg Rugby Federation.​