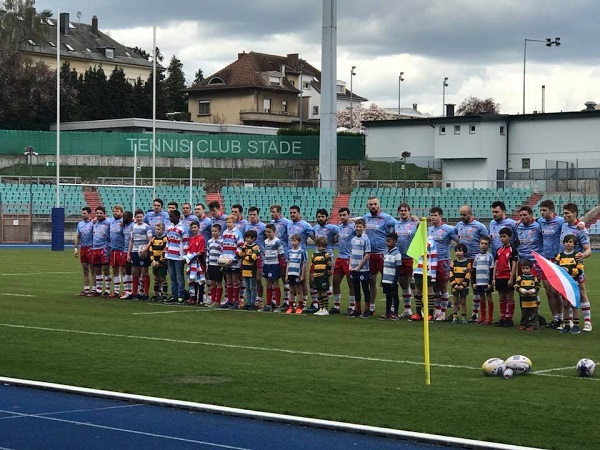 Luxembourg rugby team v Finland;
On Saturday 14 April, Luxembourg's rugby team scored a bonus point win over Finland in a Rugby Europe Conference 2 North fixture at the Stade Josy Barthel in Luxembourg.
With a final score of 45-5 to the hosts, it was Luxembourg who got the first score, with Adrien Timmermans tounching down after 6 minutes. William Browne kicked the conversion and a penalty soon after, and also converted two further tries during a one-way traffic first half, scored by full back Gauthier Bares and outside centre Guillume Kimmel.
Half-time 24-0 for Luxembourg.
After the break, both teams started to make some substitutions and, with just 15 minutes gone of the second half, it was the visitors who got on the score-sheet, with wing Samu-Petteri Pääkkö touching down. However, this was to be all the points Finland could muster, with Luxembourg scoring an additional three tries, by wing Charles Stone, and both Timmermans and Kimmel getting their second tries of the game to leave the final score at 45-5, with Luxembourg recording 4 points for a 1 and a bonus point for scoring four tries or more.
Luxembourg have extended their lead at the top of the conference, with an impressive 14 points from three games.
Luxembourg: 1 Rezapour Saman; 2 Dee Quentin; 3 Kremer Thomas; 4 Giffard Vincent; 5 Drennan Anthony; 6 Vert Jean-Baptiste; 7 Kimmel Romain (Capt); 8 Williams Rhys; 9 Geoffreys Gareth; 10 Browne William; 11 Timmermans Adrien; 12 Dozin Maxime; 13 Kimmel Guillaume; 14 Stone Charles; 15 Bares Gauthier; 16 Dennis-Soto Matthew; 17 Marcus Adam; 18 Cendre Victor; 19 Toulet Pierre; 20 Bouobda Nzali Hugues; 21 Calmont Adrien; 22 Kenens Maxim; 23 Ketema Yared
​Finland: 1 Tammero Lauri; 2 Martinez Anthony; 3 Denholm Chris; 4 Peltoniemi Akseli; 5 Konttila Mauno; 6 Aro Ossi; 7 Keranen Matti; 8 Eskola Kosti; 9 Maenpaa Crispin; 10 Finell Thomas; 11 Paakko Samu-Petteri; 12 Viljanen Jussi; 13 Hyytiainen Matias; 14 Takala Mika; 15 Rochford Ronan; 16 Rantakokko Tatu; 17 Grondahl Mikko; 18 Filtness Karl; 19 Raivonen Herkko; 20 Larsen Petter; 21 Koponen Jani; 22 Lahtivuori Eetu; 23 Visser Isaac​