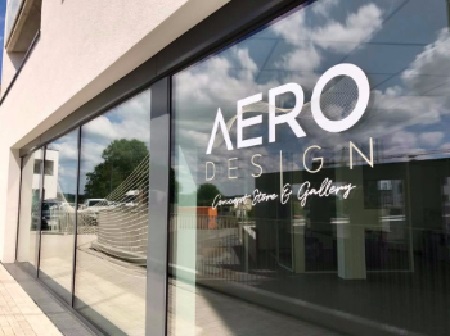 The first European aviation concept store, Aero-Design Concept Store & Gallery, will open on 23 September 2017, in Weiswampach, Luxembourg.
The first of its kind in Luxembourg and Europe as a whole, the Aero-Design Concept Store & Gallery is designed and fitted out by the artist Agnès Patrice-Crépin, and Florence Ramioul, her associate and co-founder of the decoration brand Aero-Design. The store showcases the work of ten designers, in addition to in-house creations, with the furniture, graphic art, decorations and jewellery all inspired by aviation or made from aircraft parts.
The brands at the store are carefully chosen for their originality and their story, whilst the in-house creations and aircraft parts, enhanced by Agnès Patrice-Crépin, are shown next to signature art works dear to enthusiasts' hearts.
The first artists being hosted are Lucio Perinotto, whose oil paintings of 1950s airliners have won him the prestigious title of Official Painter of the French Air Force, Jicé, painter-sculptor, and his industrial trompe-l'œil painting-sculptures, Go Jeunejean, sculptor-recycler, with his surprising and endearing robots, Olivier Stoltz, whose paintings are so sharp that it's not clear if they are paintings or photos, and Stephan Venekas, a contemporary artist fond of aircraft scenes piloted by women in urban settings.
As for the boutique, there are ornaments, photos, books and other items on sale. In particular, the boutique sells beautiful ready-to-wear and leather goods brands, all bearing the "Aviation" label, such as Aerobatix who have restyled the legendary flight jacket, Artonvel who are inspired by flight uniforms and their numerous pockets for their unique bags, and Barnstormer and their collection of polo shirts that pays tribute to aviation pioneers.
Moreover, Manolo Chrétien, visual artist and son of the first Frenchman in space, will be resident in the store as of 2018, with his Aluminations.
The new aviation concept store is located in Weiswampachau, Luxembourg, and aims to something for everyone, from costume jewellery to a monumental desk made from an aeroplane wing.