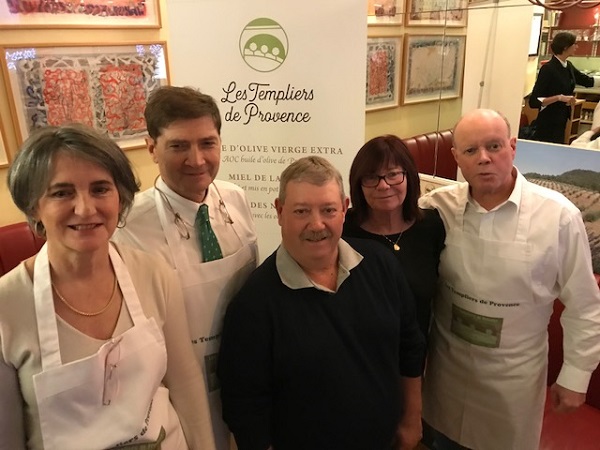 Tom Seale, Sophie Seale with Simon Norcross and others involved with Les Templiers de Provence;
On Tuesday early evening, Les Templiers de Provence held a Vernissage at the Brasserie Guillaume on Place Guillaume II in Luxembourg city centre, following the recent harvest and pressing over ten days in early November.
Tom Seale (also CEO of European Fund Administrators (EFA) in Luxembourg), has culivated a plot in Provence and started planting olive trees a number of years ago. 2008 saw the first harvest from the then young trees, approximately 600 in number, with a total of 300 litres of olive oil being produced. Now the young trees are larger and more mature, counting around 3,000 over 11 hectares. While the 2016 harvest was around 5% down on 2015 when around 4,000 litres of olive oil was produced, the 2017 harvest was similar. In fact, while the number of kilos was slightly down on 2016 (18,395 kg in 2017 compared to 20,729 in 2016), the ratio of litres (3,453 in 2017 compared to 3,679 in 2016) was better in 2017 (5.33, compared to 5.63) due to water.
Tom Seale talked with Chronicle.lu and explained that 2017 has been by far the driest year to date for Les Templiers de Provence, with a full-scale drought in Provence and much of southern Europe. The impact is that those producers who do not have an independent source of water have had little or no harvest this year. Les Templiers de Provence are fortunate to have their own well (courtesy of help from a water diviner) which supplies the house and all the trees via an irrigation system. As there is less water in the olives this year, the amount of oil is therefore more.
The trees should reach full maturity in 1-2 years' time which should see the harvest increase to 7-10,000 litres in total.
This year there is also honey from the same producers, who started managing on-site aviaries in 2014.
For further details, including ordering, see www.lestempliersdeprovence.com