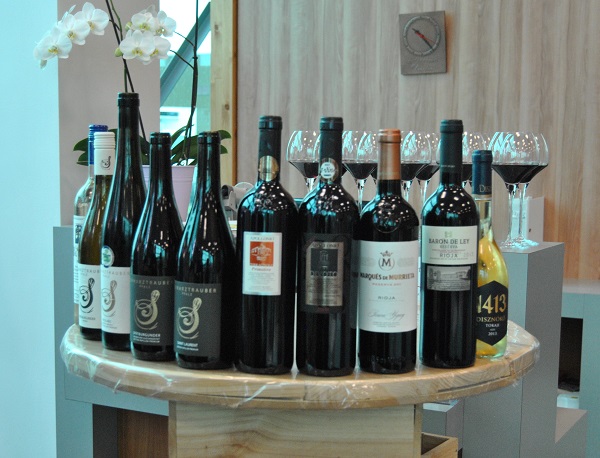 Festival des Vins du Monde 2018 at Cactus;
On Friday, Cactus supermarkets launched their 19th annual Festival des Vins du Monde (World Wines Festival) at de Schnékert Traiteur in Windhof; the festival will run from Wednesday 13 March until Sunday 25 March 2018.
During this period, the Cactus supermarket in the Belle Etoile shopping centre will hold a series of wine tastings:
- Monday to Thursday @ 10:00 - 20:00
- Friday @ 10:00 - 21:00
- Saturday @ 10:00 - 20:00
Also, on Sunday 25 March, the Belle Etoile shopping centre (including Cactus supermarket) will be open for Sunday shopping, with wine tastings from 14:00 - 18:00.
On the occasion of this 19th World Wine Festival, Cactus is organising a tasting tour of wine destinations of Europe and the World, including South Africa, Lebanon, Argentina, Chile, California, New Zealand, Australia, Hungary, Romania, Bulgaria, Switzerland, France, Italy, Spain, Portugal and Germany.
This year, Germany is entering the vinotheque: Gerhard Schwarztrauber, emeritus producer of the Palatinate, who has been cultivating his love of organic wines of the highest quality for 30 years, as evidenced by his numerous best organic winemaker from Germany 2015 - 2016 - 2017 awarded by the international competition - MUNDUS VINI BIOFACH, will present wines of the region (all his wines are "Vegan").
As every year, many owners and representatives will attend the festival to share their passion for wine; it will also be an opportunity to discover the best wines outside France, including some real bargains. No less than 63 wines are being offered at 25% discounts.
In total, there will be over 300 wines to discover at the Belle Etoile. This year, the public will also be able to taste some of these wines in Cactus outlets in Bascharage, Howald, Ingeldorf, Esch / Lallange, Kayl, Bereldange, Mersch, Remich, Petange, Echternach, Redange, Windhof, Marnach and Bettembourg Scheleck.