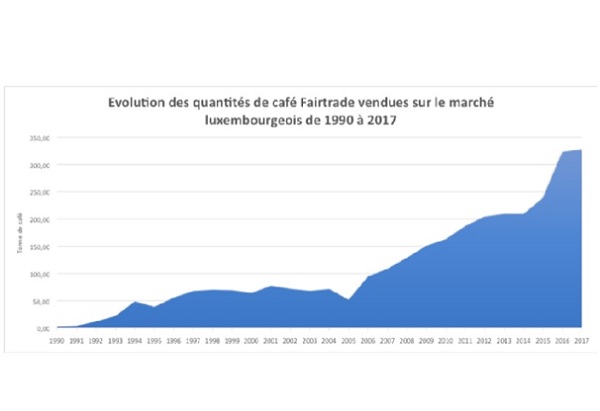 Fairtrade Lëtzebuerg is celebrating the 30 years since the launch of the Fairtrade label: in 2017, Fairtrade coffee accounted for 10% of the coffee market share with 328 tons purchased and consumed in total.
History
The Fairtrade label was born in 1988 in response to the call from Mexican coffee producers: "Receive your donations every year to build a small school so that poverty is more bearable, that's good. But the real support would be to receive a fair price for our coffee."
In 1981, Francisco van der Hoff attended a meeting in Mexico of about 100 coffee growers who wanted to form a cooperative in the hope of improving their working and living conditions. This meeting would lay the foundations for the creation of the Unión de Comunidades Indígenas of the Región del Istmo in 1983 (Uciri). In 1985, Francisco van der Hoff met Nico Roozen of the NGO "Solidaridad". This NGO was at the time limited to sending money to developing countries. But he quickly realised that it was about the worst thing he could do because to fight misery and exploitation one had to be interested in structural issues and especially pay a fair price for raw materials. It is then that the idea of ​​a "label" emerges to mark the consumer goods produced in better working conditions. The first package of fair coffee, from the Uciri, was handed over to the husband of Queen Beatrix of the Netherlands in 1988. This was the beginning of labeled fair trade. "From this experience, I became convinced that we could change the dominant system on a global scale," said Francisco Van Der Hoff, during his visit to Luxembourg in June 2015.
From a pioneer to 11 actors
In Luxembourg, the first coffee labeled Fairtrade (at the time Transfair) roasted by a local actor made its entrance thanks to Mr. Eich roasting House Santos; he was the first to believe in this alternative to conventional trade. After seeing living and working conditions in Latin America, he saw fair trade as an appropriate response to the problems of coffee farmers.
Since then, 11 Luxembourgish actors have been counted, including 6 roasters who choose green coffee that meets Fairtrade standards. Out of 180 Fairtrade coffees present in Luxembourg, 55 references come from Luxembourgish actors. Fairtrade coffee consumption in Luxembourg is constantly changing. With a few tons of coffee consumed in the early 1990s (12 tons in 1992), Fairtrade coffee has positioned itself as a key player on the Luxembourg scene with 328 tons in 2017 and a market share of around 10%. The sale of Luxembourgish actors' coffee increased by 7% between 2016 and 2017 and represents 42% of the overall Fairtrade market.
From a cooperative to 474 certified organisations
At the international level, 812,000 small-scale coffee producers in 474 cooperatives in Latin America, Africa and Asia are now benefiting from fair trade conditions. Fairtrade strengthens the position of small producers in the global market. Thanks to Fairtrade standards, the living and working conditions of producers and their families are improving. Fairtrade standards are defined on the basis of the three pillars of sustainable development - the economy, the social and the environment. A guaranteed minimum price covers the costs of sustainable production and allows families to live with dignity. In addition to the minimum price, Fairtrade certified organisations receive a Fairtrade premium. The producers decide in a democratic way in which projects this premium will be invested. Coffee producers associated with Fairtrade are required to reinvest a quarter of the premium in productivity and quality.
In 2016, Fairtrade-certified coffee cooperatives received €67 million worth of Fairtrade premiums. Part of the premium has been used to improve infrastructure, equipment and set up internal training. Another part was invested in favour of the producers, for example in the form of credits and financial aid for the producers.
From a difficult economic context to the challenges of climate change
Coffee cultivation employs about 25 million people and supports 125 million people worldwide and is an important economic pillar for many countries in Latin America, Africa and Asia. The second most traded raw material in the world, coffee is more than ever the grain of an economic war.
Most coffee growers are still surviving on less than $2 a day and have less than 10 hectares of arable land. Producers are subject to local intermediaries and do not have access to market information or prices. 45% of the world coffee market is managed by five multinationals.
Climate Change
Small coffee producers are also facing the consequences of climate change. Coffee plants are very sensitive to changes in temperature. An increase in temperatures of 1 degree Celsius has a proven impact on the quality of the coffee. An increase in temperatures of 2 degrees Celsius results in a smaller crop. An increase in temperatures of 3 degrees Celsius puts the survival of the plant in difficulty.
Climate change is exacerbating the work of millions of coffee producers because it brings unpredictable weather conditions and promotes the spread of certain pests and diseases. The mushroom "Hemileia vastatrix" is of particular concern to certain regions of Latin America. This parasite infects the coffee tree, which causes a fall of the leaves and, sometimes, the death of the plant. Due to climate change, many producers have lost most of their production and therefore their only source of income.
"We try to live with the impacts of climate change. With 300 other women, I received ongoing training on best agricultural practices. In this context, we also learned how to grow other crops such as beans or bananas on our coffee fields. These offer us other sources of income and food. In addition, large trees are planted to shade the coffee plants and to make the soil more fertile" said Zeddy Rotich, coffee producer, Kenya.
From Jean Pütz to Antoine Grimée
Since his youthful years, Jean Putz has been informed to the causes of Southern countries and organised visits / study trips as a president of the network of international students in Cologne in Southern countries.
He was the first to report on the miserable conditions of coffee producers in Costa Rica with his TV show "Hobbythek". As a fair trade ambassador, he has helped Luxembourg and Germany from the start to promote fairer trade with producers in the South. In Luxembourg, he took part in several information actions over the years, especially for coffee.
New Awareness Campaign
The new "WIN WIN" awareness campaign: Choosing a FAIRTRADE-certified cafe is to link a responsible purchasing act with pleasure, with the aim of raising the awareness of more consumers but also of public actors and purchasing managers of large companies.
Tasting a Fairtrade-compliant coffee, based on the three pillars of sustainable development, puts producers back at the heart of trade and becomes part of an economy based on respect for human rights and respect for the environment.
The Fairtrade Lëtzebuerg NGO also offers a new educational offer for future generations. Recognising that awareness and citizenship education are essential elements in building an active and responsible society, the NGO has adapted the offer to meet the needs and expectations of today's children and young people. A great novelty is the educational file that accompanies Antoine Grimée's new comic "De Coyote am Schofspelz". For basic schools, the Fairtrade Lëtzebuerg NGO is launching a contest which will allow the 3 winning classes to take part in a workshop with Antoine Grimée.
How to participate? It's very simple: go to the website www.fairtrade.lu, register and download the educational folder, work on it with your pupils and you may have the chance to win. The lucky winners will take part in a creative workshop with the Fairtrade ambassador who will reveal his secrets for the realisation of a comic book full of suspense and intrigue!​